Denver Colorado Sign Company
Custom Lighted Signs
Signdealz is a company founded on a set of core principles based on fairness, equity, and opportunity:
Small businesses should have the same access to signage consulting resources as large corporate franchises. Signdealz provides consulting services to small and medium-sized enterprises for on-premise signage and advertising. We look at each project through the lens of an advertiser and not a sign fabricator.
Low Costs through volume: Large corporations buy signage for their locations by bidding down the price for each site through volume purchasing. Signdealz provides the same advantage to our clients. We created a wholesale network that utilizes the same principles. We purchase hundreds of signage transactions each year and pass those cost savings back to our clients.
Great design is a critical component of an auspicious sign. One sign company can't have all the best designers under one roof, that's why at Signdealz, we utilize a network of great designers and we know how to use them. From 3D design to shop drawings, each drawing requires its own set of unique skills for its development. We search all over the country for the best in freelance design talent and deliver amazing sign designs for our clients.
Custom Signs That Work For Your Business
Custom signs are just that, custom representations of your business goals and identity. Promoting your products, services, and building brand identity in your local community is essential. Your sign is often the first piece of business identity a customer will see when entering your place of business. Making that first impression impactful and original is essential.
Simply put, your sign is advertising. We often see customers looking at signs as an object they need before they open their business. It's not. It's the first and most important advertising decision you will make. It will generate revenue for you immediately and until the day it is removed. Commercial signs are the most cost-effective form of advertising you will ever by and they are simple. Unlike google, bing, or other forms of advertising, signs are common in our language as advertisers and do not require any management.
Getting it right requires extensive knowledge of the rules and regulations for the City of Denver.
Zoning Analysis
The first step in the journey of navigating sign regulations will start with your zoning designation. The City of Denver utilizes a series of online resources to help you determine your zoning:
Denver Property Map: This is the quickest and easiest method of determining your zoning. It also provides the full property record.
Zone District Descriptions: This webpage contains a complete listing of zoning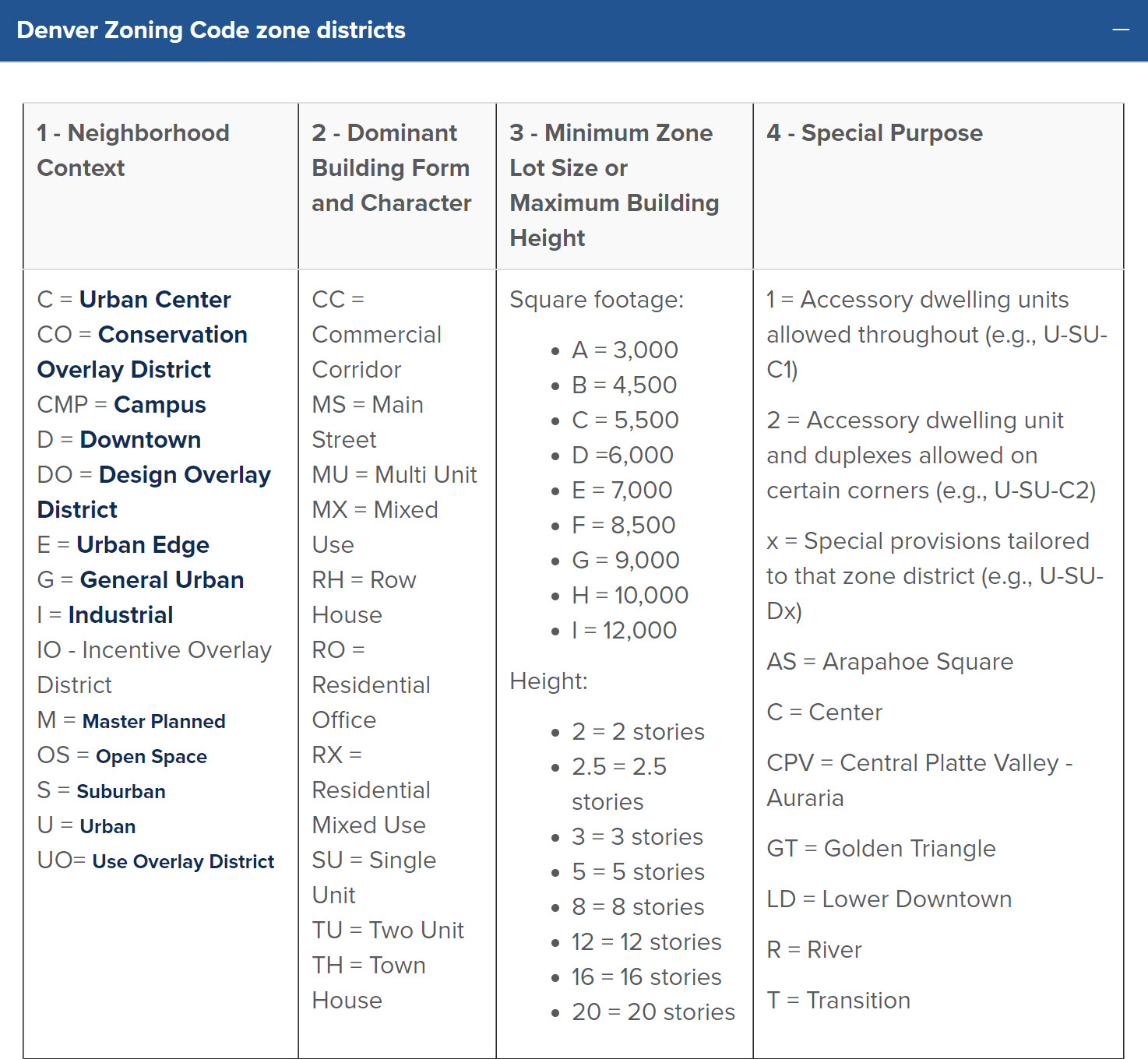 Denver Sign Code Analysis
Signdealz consultants are trained in how to evaluate your brand, the building's architecture, sign code, zoning, and signage functionality to deliver the best sign solution for your business. It's not an easy endeavor. Navigating your budget and the City of Denver's requirements for Denver Sign Code can be very challenging, but you can trust we have done it hundreds of times. Denver has multiple design review standards and guidelines. Ther are 4 design review boards in the City of Denver:
These design review boards can review and approve the structural elements, color, placement, location, and height of commercial signs in each district, but they cannot regulate the content of the copy of the sign. This is protected speech under the 1st amendment of the constitution.
Design Process Starts
Once your zoning and design review requirements are determined, we can start the design process. Keep in mind, your design is reviewed by yourself, your landlord or developer, an engineer, fabricator, and city planning and zoning. It will contain a lot of relevant information. Here are the steps in the design process:
Technical Survey:

If you are opening from an existing location we will send our technician out on-site and measure all the structural building elements that may impact the placement of the sign.
Document Collection:

Our sales consultant will request your logos in vector format, copies of sign criteria in your lease documents, and for ground signs, we will request a recent copy of your Alta Survey. These documents will be used to produce your design an ensure we meet landlord and city requirements.
Colors:

We will request you to send us your brand colors. We often convert those colors from RGB or CMYK to PMS or Mathew Paint System colors. We will also provide color verification services like paint cards to you for sign off prior to production.
Concept Design:

Your initial concept design will be developed by one of our award-winning designers. We will provide a sign detail page listing all of the technical details of the sign design. Followed by an elevation drawing illustrating how the sign will look on the building or placed on the proposed ground location. Colors will also be listed. It's important you review all the details. It is common that your concept sign design will be revised numerous times as it goes through review.
Upon acceptance of your quote and signed drawing, we will submit your design to our engineering group. A set of stamped engineering will be provided and your concept design will be revised to reflect the engineering and associated calculations. This is the last step before permit submission. Just a note, all signs will not require engineering.
Permitting
Permitting is handled by our project management team. Our service includes providing your landlord with drawings so we may get their approval. We will fill out your application and submit it to the City of Denver building department for zoning approval.
Once your permits are approved we move on to fabrication. Your project will be fabrication inside our wholesale partner network. Our project management team will deliver completion photos to you for approval. Your sign will not leave our facility unless you have approved of the completed product. We call this process visual verification.
If your project was fabricated out of state, we will coordinate the shipping of your project to one of our secure warehouses where the sign will be inspected and photographed to ensure no damage has taken place. All shipments are fully insured.
Our project management team will coordinate with your GC, electrician, or yourself to ensure your project will be installed without any issues. Your project may require a street or sidewalk closure and if so, it will be coordinated prior to the installation of your sign. Once the electrical for your sign has been completed, our project management team will call in your inspections and close out the project.