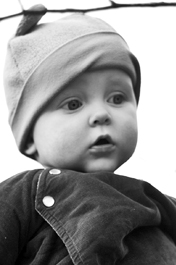 This May our family is participating in The Great Strides Walk for a cure of Cystic Fibrosis in Colorado. This fundraiser is particularly close to our hearts as we have a nephew who was born last year with Cystic Fibrosis, baby Beckett.
Beckett is doing great and his health over the past year, with a few medical treatments, has been good. He will be turning one year old in March! We want to do everything we can to raise money for research to help Beckett and others like him to be able to live a long and healthy life. I understand that times are tough but anything that you are able to give will help so much.
Last year, I went to Oregon to participate in the Great Strides walk for a cure, and Beckett's Team was the top fundraiser in Oregon! This year we are expanding our team across the country!
Cystic fibrosis is an inherited chronic disease that affects the lungs and digestive system of about 30,000 children and adults in the United States (70,000 worldwide). A defective gene and its protein product cause the body to produce unusually thick mucus which clogs the lungs and leads to life-threatening lung infections; and obstructs the pancreas which stops natural enzymes from helping the body break down and absorb food. In the 1950s, few children with cystic fibrosis lived to attend elementary school. Today, advances in research have further extended life for people with CF. Many people with the disease can now expect to live into their 30s or 40s.
Donations are the primary source of funding for new research. Cystic fibrosis is the largest genetic disease in the country, but with only 30,000 patients in the US it is known as an "orphan disease". What that means is there aren't enough people to justify the major drug companies paying for research for CF. That is why it is so important for us to donate! There are actually drugs in the foreseeable future that could have a MAJOR impact on quality of life, basically alleviating patients of all of their symptoms!
Making a donation is easy and secure! Just click on the link below to make a donation to my fundraising page. Any amount you can donate is greatly appreciated! Together, we can make a difference in the lives of those with CF! Thank you!
http://www.cff.org/Great_Strides/WilliamHayes
Select "Click to Donate" button
If the link does not work, you can search for "Beckett's Team" at Sloan's Lake!