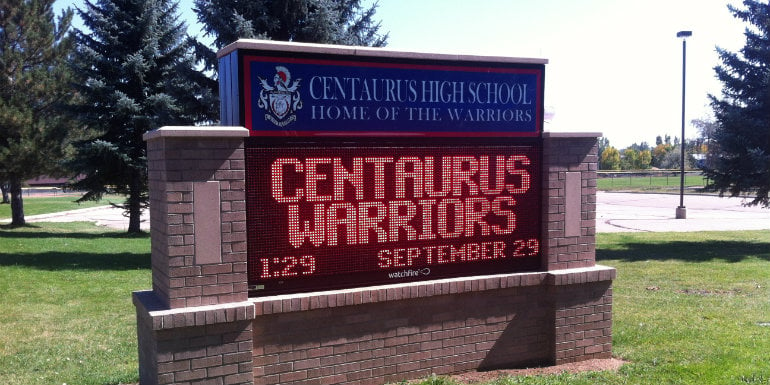 As the go-to company for Watchfire LED signs in Lafayette, Colorado, Signdealz recently had the honor of providing a brand new LED monument sign for Centaurus High School. We're happy to report that the finished product looks great, and it should help spread the school's important news while also garnering up some support for their sports teams. With a population of just over 1,000 students, Centaurus is a close-knit community of teachers and students who support each other's efforts in academics and on the playing field. Go Warriors!
Centaurus

High School- Rewarded for Achievement
Signdealz

is proud to have provided the Watchfire LED Sign for this notable high school. We know that the new Watchfire LED monument sign will help spread awareness of upcoming events, so those who want to participate can keep track of what's coming up. There are so many extracurricular activities at

Centaurus

from the comic club to the forensics club, and having a visual display of important information is essential. The sign also helps keep parents and community members informed of the school's latest awards and achievements.
Designing An LED Sign
As we do for all clients, we paid a lot of attention to detail when designing the Centaurus High School sign. The brick frame gives the sign a formal and stately look, which is important for a public establishment like a school. The blue top portion of the sign displays the school's name and sports team name, and the LED portion of the sign is easily modified to display whatever message is needed that day. The school can easily program in multiple messages and alternate between them, so all of the important information is being conveyed.
Signdealz

- Your Source for LED Signs
Contact Signdealz if you're looking for LED signs in Lafayette, Colorado. We customize every sign according to your needs, with a wide array of sizes and styles available. Whether you need a colored LED sign or a scrolling monochromatic sign, we offer fully customizable options made by only the most qualified manufacturers.