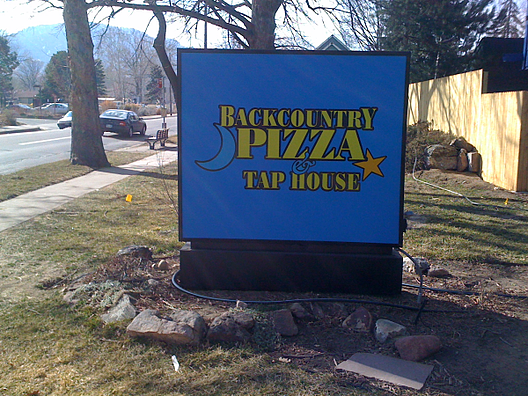 Signdealz just finished Backcountry Pizza & Tap House located at 2319 Arapahoe Avenue, Boulder. Johnson Faymen, the owner was one of our best customers ever! We recovered three large awnings and reconditioned the existing monument sign in.
Custom Monument Signs in Boulder
The monument sign had previously been hit by a car and required we take it back to the shop for repair, new faces, bulbs, and paint. Below I have included some of the project specifications for you in case you are looking for this kind of sign for your business.
Type of Sign: Double Sided Illuminated Sign Cabinet
Cost Range: $4000 to $6000
Size: 5'H X 6'L
Signdealz fabricated the three awnings from black Sunbrella fabric and screen printed Backcountry's amazing three color logo on the front of all the awnings. Since the awnings were only a recover, they would normally not require a permit, but because we put new logos on the recover we had to pull a sign permit in the City of Boulder.
Type of Sign: Sunbrella Black Fabric Awnings (Recover Only)
Cost Range: $3000 to $5000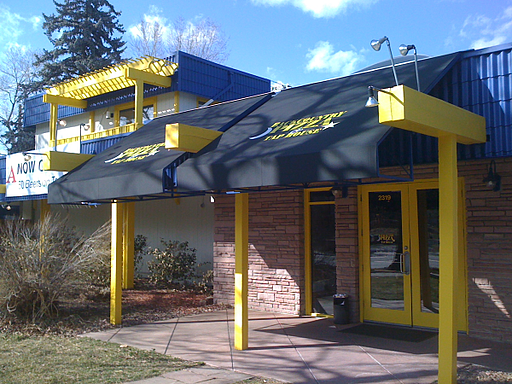 To help direct customers to their large parking lot in the rear of the property we fabricated two directional signs. The directional sign was fabricated from aluminum, painted black, and we added reflective graphics.
Type of Sign: Double Sided Non-Illuminated Directory Sign
Cost Range: $450 to $600
Size: 2'H X 3'L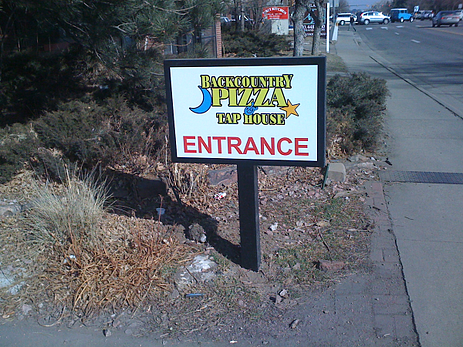 Call Signdealz for any of your sign needs! 303-747-3315