Signdealz brings Boulder Health and Wellness into the Digital Age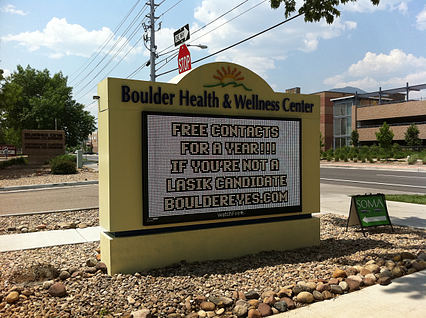 Remember when your only option to advertise to your customers was with the newspaper or the Yellow pages? Well, those days are of course over, and business owners across the nation have numerous ways to get their message out and Watchfire Full Color Digital Signs are the newest way to reach your potential clients.
For the Boulder Health and Wellness building, Signdealz.com worked with Dr. Adler of Adler Dentistry, and Dr. Beyer of Boulder Eye's to create a sign that will allow them to advertise directly to thier potential clients and help the other tenants of thier building to advertise on the sign as well. You can see thier sign at 1810 30th Street in Boulder across from the movie theater at the 29th Street Mall.
HOW DO LED SIGNS COMPARE TO OTHER FORMS OF ADVERTISING?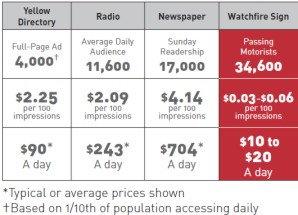 Just look at how LED signs stack up. Compare an LED sign in terms of the number of impressions, cost per impression and how much it costs on a per-day basis. It beats newspaper, yellow pages and radio hands down. And only with an LED sign can you change your message instantaneously. LED signs can be used to quickly reduce inventory or boost site-specific and time-specific sales – perfect for a restaurant that wants to clear out perishable food items by offering a limited-time special, for instance.
"Since we installed our Watchfire LED Sign, we've been able to cut our advertising budget by an astounding 60%! We've really enjoyed successful fundraising efforts, particularly our annual spring raffle. I believe this is due in large part to the strategic placement of the LED sign on the school grounds."
- Jeanne Mulvaney, Director of Development at Schlarman High School

HOW MUCH SHOULD I BUDGET FOR AN LED SIGN?
There are many options in size, color, depth, detail and more, so obviously it depends. There are some useful guidelines that will help you budget. Remember that price is primarily driven by LED quantity and color—prices range quite a bit, from $10,000 to $300,000. An LED sign purchase can best be considered as an advertising expenditure, rather than a capital investment. Put in these terms, the monthly investment of an LED sign compares very favorably to other advertising options. Another way to look at it is that the monthly payment for an LED sign is highly comparable to a vehicle or truck lease.

Call Signdealz for a free estimate and consultation. We understand this is a big investiment and will work with you to find the right option. Call 303-447-1101.