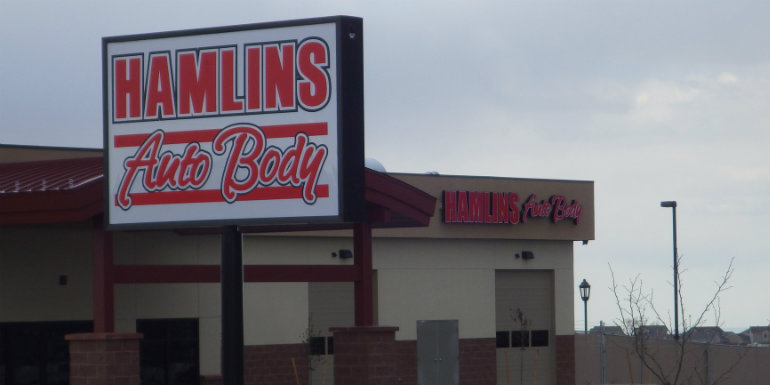 Signs are a great way to indicate the location of your business and help draw in customers that were looking for your business as well as those that were simply looking for the services or products that your business offers. There are many types of signs to choose from, although pole signs in Colorado Springs have proven to be one of the most effective ones. This is evident by the use of pole signs in Colorado Springs by Hamlins Auto Body.
Quality Auto Service From Hamlins
Hamlins Auto Body has the distinction of being not only the largest auto body shop in the southern Colorado Springs area, but also the best equipped shop as well. Some of the state-of-the-art auto body equipment that they use include an Accuraft paintbooth, a Chief Velocity measuring system, and Prospot Welder equipment, just to name a few. They have built a strong reputation for high quality auto body work and customer service. Additionally, they act as a direct repair facility for a number of major insurance companies. In fact, if they find any additional problems with your vehicle, they will contact the insurance company directly in order to avoid having to charge you additional out of pocket expenses.
Smart Sign Design For Atrtracting Customers
The sign that Hamlins Auto Body uses is a large pole sign that sits right outside of their place of business. The pole is sturdy and thick, ensuring that the sign won't be knocked over very easily. The sign itself sits high up on the pole so that it can be seen from a good distance away. The lettering is a bright red, a contrasting color from the white background to make it easily visible. The lettering is also simple and easy to read without being bland, thereby helping to draw the eye.
Consider using pole signs in Colorado Springs for your business. Pole signs are strong, durable, easily read, visually attractive and can be seen from a distance. For more information about pole signs in Colorado Springs, Contact us at Signdealz.