Lets face it. Getting little kids into the barber chair for thier first hair cut can be a challenge. Getting over the fear on any new experience can be a challenge for small children. Jack & Jill hair salon is designed to make children feel at ease with the new experience of getting a hair cut. How do they do it? Well, the first thing we noticed is how friendly thier staff is. They are great people who make not only your kids feel comfortable, but you as well.
Jack & Jill Children's Salon Opens New Location
Jack & Jill Children's Salon is a full-service hair salon for kids and tweens. From bobs and up-dos to buzz cuts and faux hawks, they do it all. Our talented staff continuously educates themselves on the latest trends and can transform any little boy and girl into the prince and princess or the diva and rock star they wish to be.
Realizing you are never too young to pamper yourself, our service menu also includes kid-friendly spa services that are conducted in our posh spa area complete with a pedicure pit and manicure stations. We also offer glamour-packed themed parties. Finally, our in-store boutique provides hair products, accessories, jewelry and gifts.
You can find Jack & Jill in Denver, Boulder, Aurora, Cherry Creek, and Park Meadows. Here is a link to the Jack and Jill website:http://www.jackandjillchildrenssalon.com/
Signdealz Channel Letters and Signs for Jack & Jill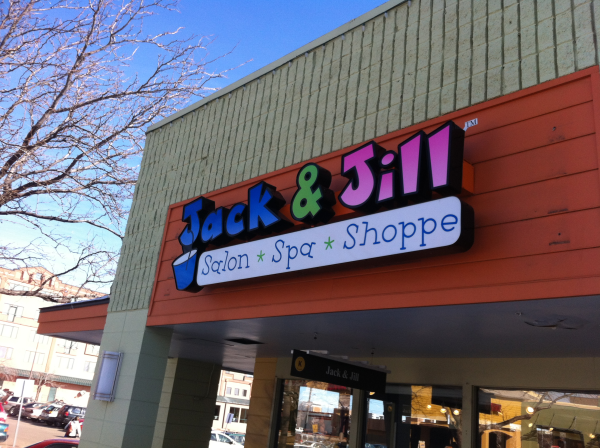 Channel Letter Color Considerations
Getting your front lit channel letter sign to look great during the day and the night is no easy feat. Jack and Jill's sign required the uses of a few different sign making techniques and considerations. Jack and Jill's logo has a gradient color where the color is a nice deep blue and green at the top, but slowly fades as it goes down. This requires us to use a digital print with significant color saturation so the color doesn't fade at night. Signdealz uses vendors with the ability to print with deep color saturation on digital prints so you dont get that washed out look you often see with inferior products.
There are three primary ways letters get their color on Channel Letter Signs. The first is Digital Printing and the most common way is High Performance (HP) Vinyl, and the third is acrylic.
Digitally Printed Faces on Channel Letters
Digital printing is a process that is identical in many ways to your home printer. The ink is sprayed on the surface of the media and thus allows light to penetrate through it. Unfortunately, because many digital printers do not deliver enough ink to maintain a solid color profile, digital printing for lighted signs often can look washed out when lit and fade quickly over time. Printers capable of printing with enough saturation or the ability to print white are very expensive and is often cost prohibitive for small and medium sized manufacturers. You should expect digital printed surfaces to last 3 to 5 years.
Channel Letters with HP Vinly Faces
HP Vinly is an engineered product that delivers brilliant colors, the only drawback with HP vinyl is it's somewhat limmited color selection. However, because the pigment is part of the vinyl and not applied to the surface. You get brillant colors that last significantly longer than Digital Printing. You should expect HP vinyl to last 7 to 10 years.
Channel Letters with Acrylic Faces
Finally there is colored acrylic. This is the longest lasting face material for front lit channel letters, but is significantly limmited in color selection. You should expect colored acrylic to last from 10 to 20 years depending on where the sign faces the sun.