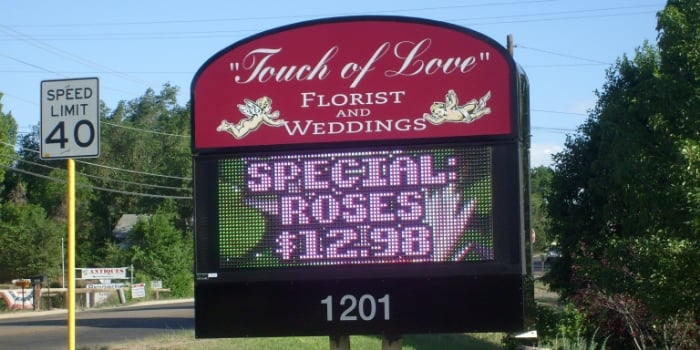 A lot of things about LED displays have changed over the years. First of all, you couldn't find an LED Display sign in Colorado. The technology was exorbitantly expensive, keeping the technology out of the hands of the average business owner. A typical 3' X 10' LED Display would cost approximately $20,000 to $30,000 just for the LED display cabinet, not to include the sign cabinet portion and installation of the display. However, today you can't drive down I-25 in Denver without seeing one of the new state of the art full color Watchfire LED displays.
So who are the big players in the LED Display market and what should you be looking for when you are thinking about investing in an Electronic Message Center? Yes, it is an investment! It will break you from the bonds of couponing in the local newspaper and get you into controlling the message you send to YOUR customers!
First, can you even have one in the municipality you own your business in? CHECK YOU CITY CODE!! Many cities do allow LED Message centers, but have restrictions on the type of color RGB (Red Green Blue or Full Color) or monochrome (single color). There are also restrictions on whether the sign can have flashing or moving artwork. This is very important to know, because the signs developed today have the capability to produce movie quality images over long distances. They are significantly more expensive than monochrome, however to make the up-sell easier for the potential customer, LED sign manufactures are dropping the cost on full color quickly. The other thing to consider is size. Many municipalities limit the size and position of the display as well. You can always apply for a variance from the city if you want one and they deny your permit. Just understand it's going to be expensive, but for the right business it may be worth the fight.
At Signdealz we use primarily two US based manufacturers. Daktronics LED displays out of Brookings SD and Watchfire from Time-o-Matic out of Danville, IL. Both manufactures are based in the good old US of A, but have superior manufacturing quality over their Chinese and Korean counterparts. Here is a small list of why you should go US. Not because I am a god loving American, but because:
1. Try to get a part shipped from China within the warranty period. Don't expect it to get there overnight or even a week, try a month.

LED display

parts manufactured in the US from both our manufactures get here overnight. We have certified technicians who can handle the installation of replacement LED display parts. Be wary of a Sign company that is trying to sell you an off brand LED display. You will be sorry!!!
2. Quality. Ten years ago a product made in China might be superior to an American made product. Not any more! America's push in Just In Time (JIT) manufacturing and focus on quality using Lean Six Sigma or ISO processes have placed American LED Sign products into a realm of quality and reliability never seen before. Since I have been installing LED Signs and Displays throughout Colorado I have never had one fail in 8 years from our two manufacturers.
3. Resolution: Foreign LED manufactures are notorious for putting out products that do not produce the correct colors, or they burn out so fast the color changes in a year. Most US manufactures provide for a 5 year limited warranty and the tolerances on the displays are very tight.
So remember, you get what you pay for in an LED display sign. A good 3' X 10' High Resolution LED Message Center double sided for a monument sign will cost you about $18,000 to $25,000 depending on installation, permit costs, and materials. If you plan on going for a pole sign double sided, say about 12' to 15' in the air you might have to double the price range to $20,000 to $50,000. You will probably have to increase the size of the display as well, so that passing cars can read the sucker that high up in the air. If you are going to a digital billboard, then expect to pay up to $1,000,000.00 dollars, but who in their right mind would want to do that?

So kids, remember. In my next article I will go over the investment side of purchasing a quality Watchfire LED Sign in Denver, Boulder, Littleton, Fort Collins, or Colorado Springs Colorado. It's a no brainer investment, but that's for another story. Call Signdealz if you are interested in receiving more information on purchasing this valuable asset to your new or existing business.