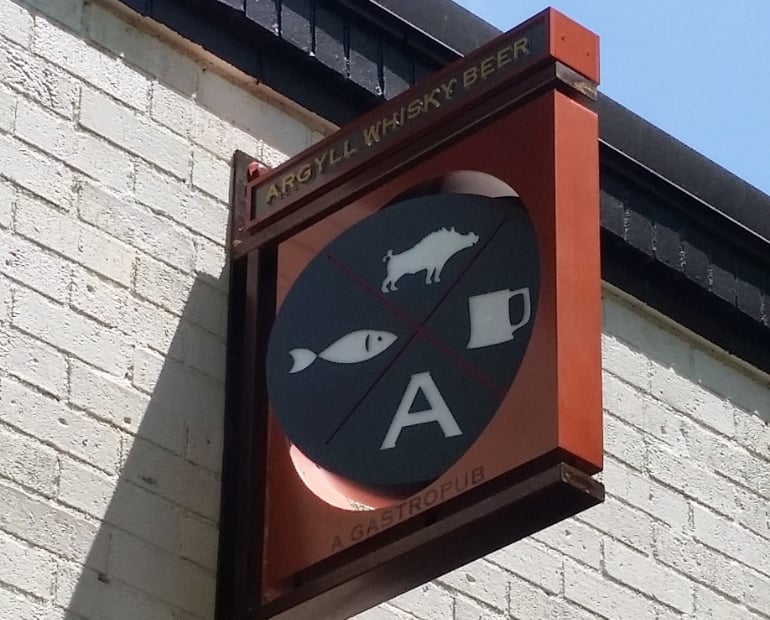 Recently ranked as one of Denver's ten best restaurants, Argyll Whisky Beer is an establishment focused on delicious craft beers and mouth watering food. Restaurateur Robert Thompson, Cicerone Ryan Conklin, and Chef John Broening have created a one-of-a-kind restaurant unlike anything else in Denver.
The visionaries behind the restaurant have created a place where innovation is important and community is celebrated. We were thrilled to partner with Argyll Whisky Beer to create a blade signblade sign that helps convey the restaurant's unique take on food and drink.
The menu is focused on approachable and elevated British pub cuisine, craft Colorado and European beers, and a selection of whiskies from around the globe. Guests immediately feel at home with Argyll Whisky Beer's warmth and rugged elegance. The restaurant's motto of "Eat Well - Drink Slowly - Speak Warmly" speaks to its mission and presence on the Denver food scene.
Signdealz, a Denver sign company, knew exactly what Argyll Whisky Beer needed to attract attention to the establishment. A blade sign hangs perpendicular from the building and can be custom designed to match the business' established branding. We worked closely with Argyll Whisky Beer to create a sign that will draw in new customers, solidify a strong market presence, and help them stand out from the crowd. The design works well with their established branding and reflects their focus on British gastropub beer and food.
Contact us if you would like to learn more about blade signs in Denver. We're ready to help you design and create a sign that fits the individual needs of your Denver business.