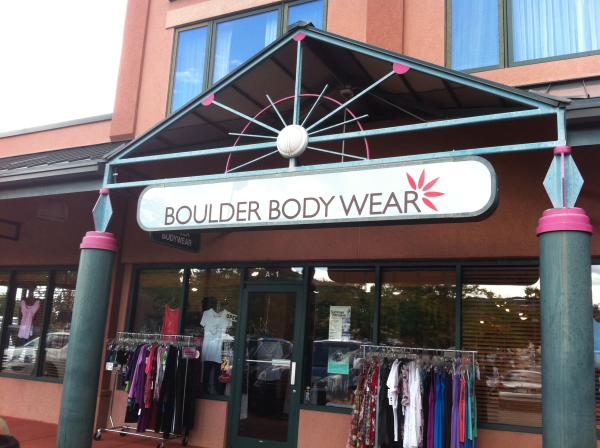 Signdealz works with Boulder Body Wear to rebrand thier store!
With the prospect of a challenging economy lurking in the future, businesses are looking for ways to stay relevent and fresh with customers. Boulder Body Wear looked to freshen up it's image after years in business with a simple logo redesign.
Updating your signage is one of many ways to cost effectively stay relevant with your core customers. Here is what the customer see's:
Your willing to spend money on your business in a tough economy. Customers think " they must be doing well".
In retail, your product is the core of your business. If your brand is fresh, that gives the impression your product line may be as well.
Boulder Body Wear is located at 2660 Canyon Boulevard
Boulder, CO 80302. You can also find them on the web at https://www.boulderbodywear.com/.
Here is some info on BBW: Boulder Body Wear has been an integral part of the Boulder community since 1987. We were first located in a hole-in-the-wall spot on Boulder's University Hill, and marketed exclusively to dancers. We have since moved to a larger location within Boulder's Marriott shopping center, and our focus has evolved into three distinct markets: dancewear, lifestyle/activewear and fashion. These three lines are carefully selected to meet the needs of our loyal customers, who range in ages, interests and fitness levels, but who want to shop locally, while feeling and looking great. When you visit Boulder Body Wear, you can pick up a tutu for your child to wear to dance class while grabbing a pair of yoga pants for yourself and checking out the latest styles in jeans, stylish tops and funky jewelry.
How did Signdealz help?
Well, Signdealz didn't handle the logo design. BBW handed us a existing logo from a local designer and we helped find a way to use that logo to build the new sign face for the building sign. The orginal logo was a stacked design that made it's use on the long horizontal sign impossible. So we reworked the logo to fit within the constraints of the sign on her building.
How much does a sign like this cost?
Sign face changes on single faced building signs are very cost effective. Here are a few tips to calculating the potential cost of replacement. Remember, different shops have different rates on materials and labor, so this number will vary widely from sign shop to sign shop.
Lexan Sign Face:$10 to $14 a Square Foot
High Performance Vinyl: $3 to $5 a Square Foot
Shop Labor 1 Man: $86Hr
Installation Labor Rate for 1 Man in a Service Truck: $85 Hr
Example: 2'H X 8'L Sign face
Lexan Cost: 16SF X $11 = $176
Vinyl Cost: 16SF X $5 = $80
Shop Labor to Fabricate per face: 2 hours x $85 = $170
Installation: 2 Hours @ $85 = $170
Total Price = $596