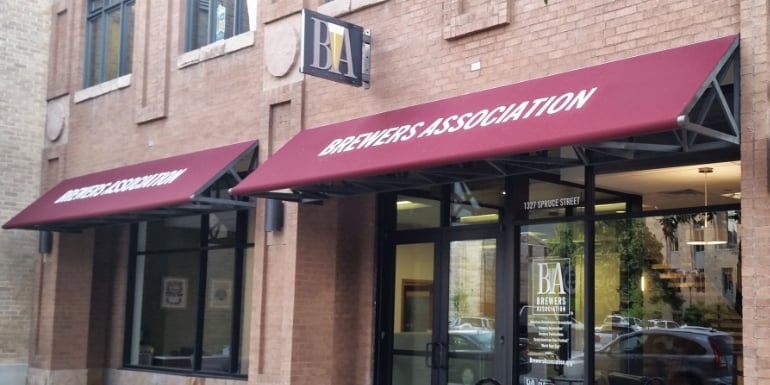 Colorado is known world-wide for its craft brewing, and the Brewers Association is the professional organization that connects those working in the brewing industry. There are more than 10,000 brewers, marketers, buyers, individual owners, managers, CEOs, and distributors in the association. One of the Brewers Association's primary goals is to educate members on brewing quality, current research, technical specifications, and results of the annual Hops Usage Survey. They also work to ensure the ingredients necessary for craft brewing are available and of high quality.
The Brewers Association recently opened a new Boulder location and we were thrilled to partner with them on their sign needs. We designed, created, and installed a new blade sign based on the association's established branding, featuring a tall glass of beer. The blade sign also uses both aluminum and steel elements, giving the blade sign an industrial look and feel.
A blade sign is a classic sign style that hangs perpendicular to the building and aims to attract the attention of passers-by. This sign is mounted using metal brackets that can be fabricated to tie in with the sign's design. Blade signs in Boulder can incorporate a variety of design elements, including routed out electrical elements, acrylic push through letters, and three dimensional features. Blade signs are one of the most effective types of advertising signs, because the are perpendicular to the street or sidewalk. This gives drivers and pedestrians the ability to see the sign directly as they travel down the sidewalk or street. Projecting signs get approximately 75% more impressions that wall mounted signs.
For the Brewers Association, their blade sign needs were simple. We printed their logo, a B and A separated by a pilsner full of beer, on a rectangular blade sign. They already had their full name printed on awnings, so they just needed their logo for an added professional appearance and to attract traffic from different angles.
Contact us at Signdealz to learn more about designing, constructing, and installing blade signs in Boulder. We are proud of the signs we've created in the Boulder area and can't wait to share our work with you.