In marketing's days of yore, signage educated consumers about products. A refaced marketing strategy was unveiled in the Nineties when branding buzz became the catch phrase of the business world. Marketing efforts communicated ideals and lifestyles. Widgets didn't keep you connected, fill your stomach or shade your lips. They brought true love, pushed you onto the apex of the social ladder and gave you infinite poise. Marketing had reached its zenith as an omnipotent influence over consumer whims.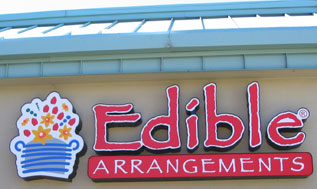 Beyond Your Channel Letter
In the publicity stunt of the century, an energy drink brand set a record for the highest free fall from the edge of space, demonstrating the best practices of the decade flawlessly: Drinking their product would turn consumers into high octane achievers worthy of their own spot in the Guinness books. The contender said, "I think they underestimate the skills of a skydiver," but consumers heard, "I think they underestimate the skills of an energy drink enthusiast." The stunt declared that your life is measured by what you drink.

Those who spot the business' signage today instantly associate the logo with achievement, skill and courage. Their channel letter might carry a simple logo but in consumer minds, it asserts, "Drink this and you will become a death defying superhero."

Signage in the Information Age
When 2012 dawned, business professionals were given a fresh dose of befuddlement when Harvard Business School declared that branding was fatally ill, and you would have to change your signage practices if you were to avoid being tossed into the pile of ailing businesses that were still clinging to yesteryear's tactics. The information age had struck, leaving consumers immune to marketing hype. The dot com universe had given them the opportunity to research their widgets, which brought branding full circle, taking tactics back to the Fifties when signage was educational. CEOs began to realize that their brand equity was no longer directly proportionate to their profits.

When two major American airlines merged, Forbes targeted signage's new role as educator, stating that the channel letter of the emergent business would need to tell Americans 'how and why we fly' to retain its competitive edge. If the merge had happened a year ago, the same business would need to tell Americans that the airline would give them eternal joy, career stardom and social status.

Behind Branding
According to business writer, Dan Pallota, branding is still alive and kicking. In a Harvard blog, he describes logos as 'your products and the story that those products tell together.' Too many entrepreneurs are under the impression that once they've polished and positioned their signage, their branding has been thoroughly achieved.

Lifestyle, attitude and corporate identity all need to be communicated through your channel letter if it is going to generate the buzz behind your business. Companies communicate their identities in more ways than their CEOs realize: signage quality, design and visibility are potent tactical tools. "Can you imagine seeing a crooked banner with duct tape in an Apple store? Never, " states Pallota, "And that's their brand. It says that the motherboard in the Mac isn't hanging by a thread either."

Beyond Logos
According to Forbes, branding is 'the narrative for change, not a substitute.' Service excellence, strategic pricing and business functionality turns smoke and mirror tactics into genuine indicators of change. Only with this backing can signage be turned into branding

Economic impact can be measured in aesthetic choices. The world's most successful businesses use pure text signage in blue and red, but only a muscular brand can form a foundation for aesthetic potency.
Contact Signdealz today to see how you can your muscular brand.