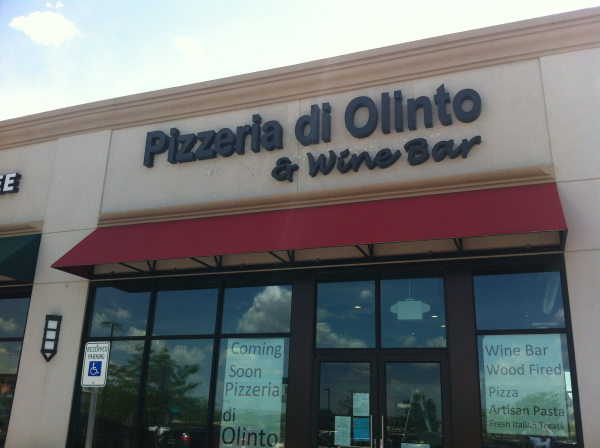 Pizzeria di Olinto brings traditional Italian fare to Centennial Colorado. The next time you are driving down Arapahoe road in Centennial Colorado look for the newest Italian spot in the neighborhood. The menu, which includes starters, pizzas fired in a wood-burning oven flamed with hard oak, pastas, salads and desserts, one of which is a s'mores pizza, is complemented by an open kitchen, wine bar and urbanized dining room bedecked with wooden tables and shades of pewter. Whether you are stopping in for lunch, dinner, or just a glass of wine with friends after work, get to Pizzeria di Olinto Pronto! They are located at 12023 E. Arapahoe Rd, Centennial Colorado 80112
Pizzeria Di Olinto Opens in Centennial Colorado
Channel Letters Pizzeria di Olinto came to signdealz.com in need of two signs. Our designers worked with them create a brand that was unique and sophisticated. The owner Terri Lack had a very clear vision of what she wanted her sign to accomplish. With the back of her restaurant facing the very busy Arapahoe road, she wanted to have a very visible sign during the day and at night. We decided that Day/Night Vinyl LED illuminated channel letters would be the best fit. The letters are black during the day and white at night. During the day the black letters are making a bold statement. At night you cannot miss the brightly lit white letters.
Channel letters can be almost any size, font, color or logo you need to brand your restaurant. They are perfect for visibiity from long distances. Signdealz.com design team will work with you to create the image you want for your business. Get the attention your business deserves by catching a potential customers eye with an iconic set of channel letters. Once you have settled on channel letters how do you want them illuminated? Signdealz.com can produce both neon and LED lit channel letters. But which is best for your business?
LED Channel Letters are signdealz.com best selling item. LED channel letters have a longer life span, use less electricity, and require fewer service calls than the old school halogen bulbs traditionally used. LEDs, or Light Emitting Diodes, are also one of the brightest forms of illumination on the market.
Neon Channel Letters use real glass tubing so there is always the potential for breakage. Real glass neon has been the mainstream in outdoor and business lighting and it still exists today more than ever. Even though neon has some potential shock hazards and high maintenance, real glass neon signs are still the most widely used forms of advertising but LED is definitely a formidable challenger.
LED's can save you up to 70% or more in energy costs while traditional glass neon runs hotter and uses more energy. Glass neon uses 15,000 volts while LED lights use only 24 volts. LED's are shock proof and have very little heat emitted which makes it safe to use. The business neon signs we offer at signdealz.com for indoor use, compared with its LED equivalent is merely pennies so if you are having trouble choosing between a neon sign and an LED sign for your home or business... flip a coin. They are both fantastic options and will last a lifetime.
Signdealz.com specializes in LED Channel Letters, Open Face Channel Letters, Neon Window Signs, LED Displays, LED Interior Lighting, and much much more! Our mission is to provide simply great signs at simply great prices. We pride ourselvs on our custsomer relationsships, great service and great prices. We can handle every aspect of the job, from design and fabrication, to installation and service. Looking for a quote? Give us a call today, or fill out our convenient web form.
800-405-0686