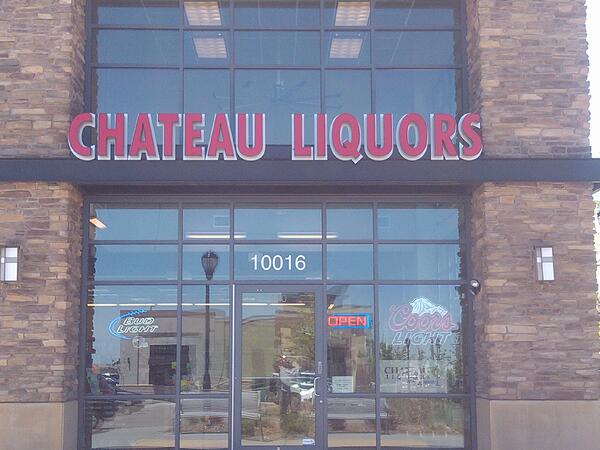 Update: 1/16/202 Chateau Liquors currently closed. We are sorry to see this happen to any of our customers but wanted to make sure that if you landed on this page looking for Chateau Liquors, you are now up to date.
Chateau Liquors is one of the City of Lone Tree's newest local businesses conveniently located in Lincoln Commons next to the Sprouts Farmers Market. Chateau Liquors seeks to be different from the competition. Their staff is incredibly knowledgeable and is eager to answer your questions or help you find the perfect variety of beer, wine, or spirits. Chateau Liquors is genuinely a local small business. The owners grew up in the area and are proud to serve the needs of Lone Tree and the surrounding communities.
Signdealz designed, created, and installed a reverse channel letter sign for this local Lone Tree business. Signdealz developed the channel letter sign in coordination with the existing branding provided by the owner, with the intent of helping Chateau Liquors stand out from the crowd; the deep red letters match the red grapes in the company's prominent logo, and the sign expertly fills the space above the corner entrance. A reverse channel letter sign is just one of the many custom business signs in Lone Tree, Colorado that we offer, and it is one of our most popular varieties.
This specific type of sign has interior lighting in each letter that shines toward the backer panel behind each channel letter, which creates a surface, so the reverse illumination coming out of the back of the letter has a place to reflect light towards the front.
If you look closely, the channel letters connect to a black box called a raceway or wire-way. The box is painted the same color as the canopy and has multiple functions.
It contains the low voltage wires from each letter and provides a space for those wire connections made in watertight UL approved containers.

The wire-way provides a surface for the channel letters to mount to when they need to stand out proud from a canopy or other structure when a flat wall surface isn't available.

It provides for a more cost-effective and straightforward installation.
When a Signdealz consultant is present for your on-site consultation, we will look at various factors that may impact the placement, size, and installation of your sign project.
Contact us at Signdealz to learn more about custom business signs in Lone Tree, Colorado.