Great interior signs always start with a vision of the space in which they reside. When will they be seen, and how will they be used are the right questions to ask when beginning this creative process. Signdealz works with numerous visionary designers who can create a look and feel that will fit the vibe of any space.
Interior Signs Help Create Great Spaces
Galvanize, and Signdealz have been great partners over the last two years. Galvanize has seen its community of entrepreneurs grow as well as their number of locations across the country. Throughout that growth, Signdealz has been there to help build their branding. Whether inside or outside their facilities, we use a combination of unique electrical and architectural sign types to support the Galvanize brand.
Signdealz works closely with our clients to build a comprehensive signage solution. During that process, we ask the following questions.
Who is going to see the sign? Customers, vendors?

Does the sign need to follow your corporate design guidelines and colors

How much space have you allowed for the sign?

Do you want it lit or non-illuminated?
These are just some of the simple questions that get the process started. We develop a detailed survey of the proposed location, prepare and collect artwork files and sketches, and then send it to one of our award-winning independent designers.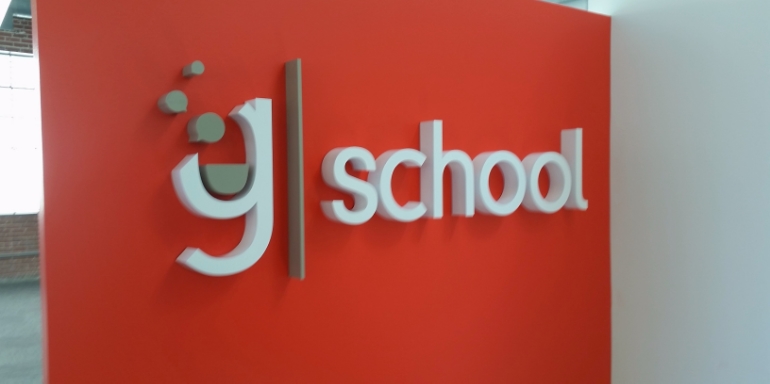 3 Dimensional Fabricated Letters
The "g School" sign seen above is a metal and sign foam fabricated letter sign. The Letters are1/8" thick aluminum painted white, very similar to a reverse pan channel letter, but with no illumination inside the letter. The brown elements are sign foam, a plastic specifically designed for the sign industry. This very durable material comes in many thicknesses and densities, making it an advantageous sign material for unique signs needing dimension. The material comes in 4'H X 8'L sheets and can come in a range of thicknesses.
The sign is attached to the wall using "studs." These studs are welded on to the back of the letter and are mounted using a printed pattern. The pattern matches the placement of each stud on the back of each letter. That way, you get perfect placement, and the sign looks uniform. The "g school" sign uses a 3" thick dimension letter, which gives it a great looking drop shadow during times its illuminated.
If you are interested in learning more about interior signs for your business or need a quote on a quality interior sign, then feel free to reach out to us. Our friendly and knowledgeable sign consultants will help you through the process, from design to installation.