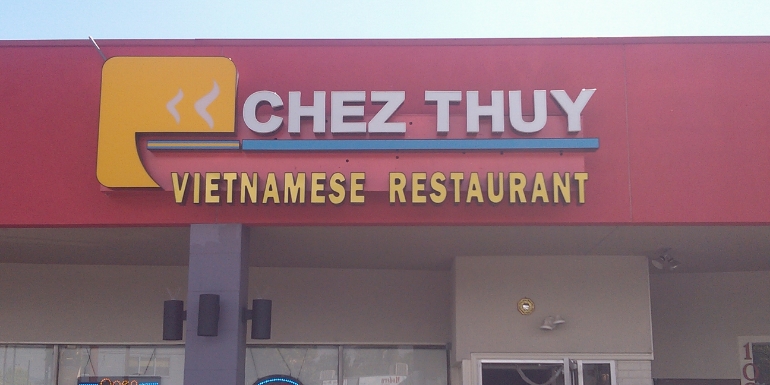 Chef Thuy has made her mark on the Denver area restaurant scene since 1993 by providing mouth watering French, Chinese, Thai, and Indonesian fare. The original Chez Thuy is in Boulder but the Denver location is quickly making a name for itself as well. The Denver menu is full of amazing dishes that bring these global flavors to life. Chef Thuy has committed herself to using only the highest quality meats, seasonings, seafood, and vegetables to create delicious and authentic dishes.
We were thrilled to create a new channel letter sign in Denver for Chez Thuy. This sign helps the restaurant stand out from the crowd and raises its visibility to prospective customers. The best part of choosing a channel letter sign is the amount of customization available. The team at Chez Thuy chose the type of channel letter sign, colors, and layout that aligned with their established branding. They chose a front-lit channel letter sign, one of the most popular choices in the United States, and we created a sign version of their logo with a cut-out noodle bowl and the image of steam rising from the bowl on the sign. We also pulled the color from the logo into the the lettering, which was chosen for its clarity and legibility, and added a line in blue for contrast.
When you choose your own sign for your business, you have the option of selecting between front lit channel letters, specialty channel letters, reverse lit channel letters, and open face channel letters. The customization is nearly limitless and will certainly meet all of your business' needs.
Contact us at Signdealz today if your business is in need of a new channel letter sign in Denver. We'll help design and create a custom sign that will fit your business' individual needs.