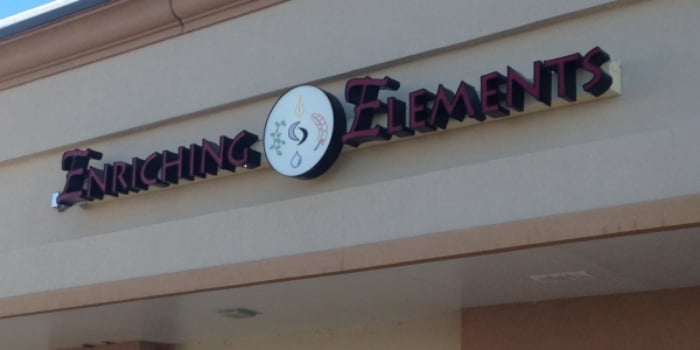 Boulder Colorado is often know for it's different perspectives on everything from politics to religious issues. Enriching Elements, started by Brian Howard, serves the diverse community of Boulder Colorado with products and services geared toward those on the alternative path.
Enriching Elements - Boulder's Home for Paganism, Wicca, and Other Forms of Non-Mainstream Spirituality
You will find our latest customer tucked in one of Boulder busiest shopping centers, next to Dot's Diner at 2712 28th St Boulder, CO 80301.
The Channel Letter Sign
Enriching elements is a front lit channel letter sign that was built by one of our partners Direct Sign Wholesale in Denver Colorado. The sign specifications are below:
Face Type: Red Acrylic
Returns: 5" Black
Trim Cap: Black 1"
Raceway: Extruded
This sign uses a simple red acrylic face and elegant font enabling it to stand out from the building. The font style flows well with the type of business and is not too overpowering which often happens.
Channel Letter Dont's - Cheap LED's
One of the biggest mistakes a customer can make is using a sign with Cheap wafer LED's. Below is a picture of a channel letter sign using a wafer style LED. You can see the connections are exposed allowing moisture to penetrate the connections and the all of the LED circuit board is also exposed to the weather. Signdealz uses only High Quality self contained LED technology that is rated at 100,000 hours of continuous operation. Our partner manufacturers are held to very high standards.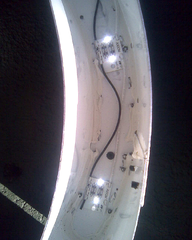 Channel Letter Cost Considerations
Like most of our small and medium sized business customers, Enriching Elements had a tight budget for signage. At Signdealz, our sign consultants are masters of getting your the biggest sign possible for the lowest price possible. It's the entire focus of our business. Delivering a great sign at a great price. Enriching Elements project from design, installation, to permitting was just under $5,000 dollars. A great price for a very large sign that will work 24 hours a day 7 days a week, bringing much needed customers in the door for our retail client.
If you would like to learn more about how a
Signdealz
sign consultant can help you find the right signage advertising solution for your business don't hesitate to contact us!