40 Thieves Hookah Lounge just opened in Boulder, Colorado! A hookah is a long-stemmed water pipe used to smoke favored tobacco. Hookahs have been popular in India, Pakistan, and the middle east for centuries. Only in recent times have they gained popularity in United States and Europe.
Commercial Sign Cabinets Go Green With LED Lighting
Smoking a hookah is an interesting experience: a hot coal is placed over a bowl of flavored tobacco, or 'Sheesha'. The smoke is then pulled through the water-filled base and up through a hose for you to enjoy. Sheesha comes in a variety of flavors, such as various fruits, mints, and floral essences. 40 Thieves Hookah Lounge is a great place to relax with friends and enjoy the taste of great sheesha!
They're open 7 Days a Week, 6:00pm-Late. visit them at 1622 Broadway - Boulder, CO.
40 Thieves Hookah Lounge came to Signdealz.com in need of signage for their new Boulder location. We set them up with a LED-Illuminated Cabinet Sign that got the job done!
In today's world, technology seems to evolve over night. Yesterday's dreams are today's reality. With advancements in LED (Light Emitting Diode) technology, we can now light the way at a fraction of the cost. LEDs are easy to produce, energy efficient, and can be used in a variety of ways. Computer screens, remote controls, flashlights, cars, toys, and signs - all utilize LED technology. Signdealz.com specializes in LED technology, including LED Displays, Interior LED lighting, LED Channel Letters, and LED-illuminated sign cabinets.
Our Full-Color LED Displays from Daktronics and Watchfire are the best way, hands down, to reach your audience. Convey your message using full-color video and eye-catching animations! Change your message real time, from the convienence of an in-store console! If getting your message out is the name-of-the-game, LED Displays are your best option! We also offer monochrome options.
Interior LED Lighting
Add an element of emotion to any interior space! Signdealz.com specializes in interior LED lighting of all kinds, from lighted effaces and ceilings to walkway lighting and color-changing mood lighting. We can incorporate dimming and remote control options as well! Interior LED lighting allows you to creatively illuminate your restaurant or business, at a fraction of the cost of conventional lighting. We can install new lighting, or retro-fit your existing lighting with LEDs.
LED Channel Letters
One of our best-selling products! LED Channel letters are 3 dimensional, aluminum letters with LEDs mounted either inside or on the back of the letter (sometimes both). Channel letters used to be illuminated with neon, which was less energy efficient and could burn out. LED technology solves those problems, and still looks great!
LED-Illuminated Sign Cabinets
Sign cabinets are traditionally illuminated by florescent bulbs, which eventually burn out (often at different times, leaving half your sign lit) or break. With LED-illuminated Sign Cabinets, you never have to worry about these issues. Plus, you can have peace of mind knowing that you're doing your part to leave a smaller carbon footprint.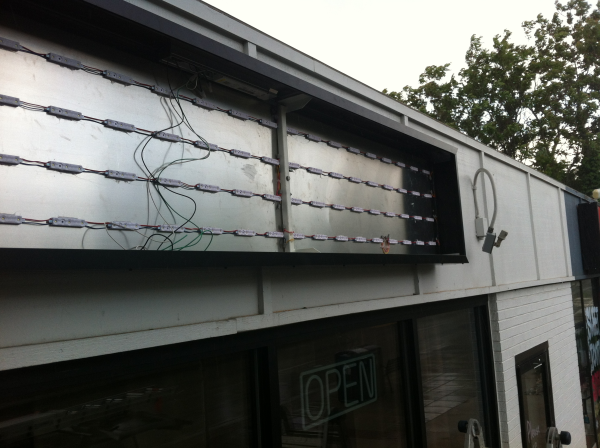 If you're interested in integrating LED technology into your new business, or would like to retro-fit your existing business with LEDs, contact Signdealz.com today. We not only specialize in LED Signs, Displays, and Channel Letters, but monument signs, interactive video displays, routed acrylic letters, and much more!