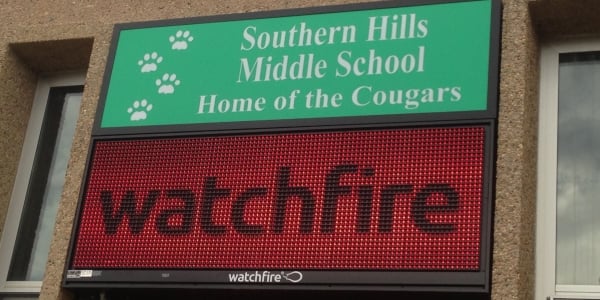 Advertising is competitive. In order to promote your business you must find ways to stand out in a crowded field. How do you ensure customers know about your business? What forms of advertising are the most efficient? An effective advertising strategy takes into account your business' strengths, the competition, and carefully crafts a plan to help you stand out from the crowd.
Watchfire LED Signs Are Your Advertising Solution
Investing in a monochrome LED sign for your business is a proven component of many advertising strategies. Utilizing the sign to convey your message has proven more effective than other methods of traditional advertising. The power of the LED sign lies in its flexibility. You are able to customize and control the message and keep it more up to date than any other form of advertising. Consider this when comparing a monochrome LED sign for your business to more traditional forms of advertising; TV commercials are expensive for short advertisements, newspaper ads may run only on certain days, and online advertising relies on the user to actively interact with the platform. None of these options compare to the flexibility, efficiency, and ease of use that a monochrome LED sign provides.
To learn more about choosing the right signage for your business, contact the professionals with Signdealz. We are ready to help you discover which type of sign is best for your business.