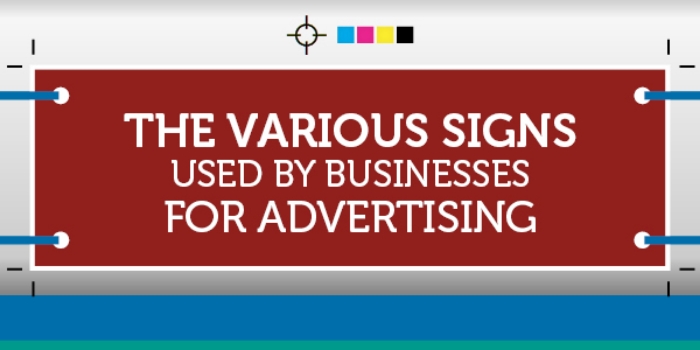 Need to know what's the best sign for your advertising need? Check out our infographic on the various signs used by businesses for Advertising
Check Out The Various Signs Used By Business

Various Signs for Business
Wide-Format Printing:
"Non" traditional applications being produced on wide-format inkjet printers include: thermo-formed displays, flooring and rubber mats, ceramic tiles, table top and seating decorations, wall coverings, and home furnishings, such as pillows and drapes.
Traditional applications can be divided into three main categories: indoor graphics, outdoor graphics, and point-of-purchase (POP) displays.
Examples of indoor graphics: posters, popup displays, backlit signage (day and night), floor and window graphics, backdrop for TV or theater.
Examples of outdoor graphics: building coverings and wraps, vehicle wraps, billboards, banners, backlit signage (day and night).
Examples of POP displays: in-store promotions, open-box packages and displays, rigid POP displays, 3D POP displays.
Grayscale Printing And Costs Savings:
Variable drop grayscale printing, on the other hand, saves ink by using small dots to fill light areas, rather than flooding an area with lighter inks
Although it may vary, grayscale printing saves an average of 15 to 25% off total printing costs.
Neon Signs May Be On Their Way Out:

According to CNN, businesses are switching to cheaper, more energy-efficient LED bulbs and municipal planning boards are zoning out neon to decrease the number of unsightly displays.
How did neon lighting get started? In 1902, just a few years after neon gas was discovered by British chemists, French engineer Georges Claude sent it coursing through electrified glass tubes, creating neon lighting.
The Big Apple went from tens of thousands of signs in the 1970s to just a few hundred across the five boroughs today.
Despite its commercial decline, neon is experiencing a small resurgence as an art form for the warm retro vibe it inspires. Museums devoted to neon have sprung up in Los Angeles, Las Vegas and Cincinnati.
Vinyl Signage And Decals:
Vinyl is a durable and weather-resistant material, ideal for custom-printed decals. Vinyl decals can be made in almost any shape, size, or quantity.
Vinyl is cost-effective and sustainable. Vinyl is even cheaper when purchased in bulk.
Citation Links: