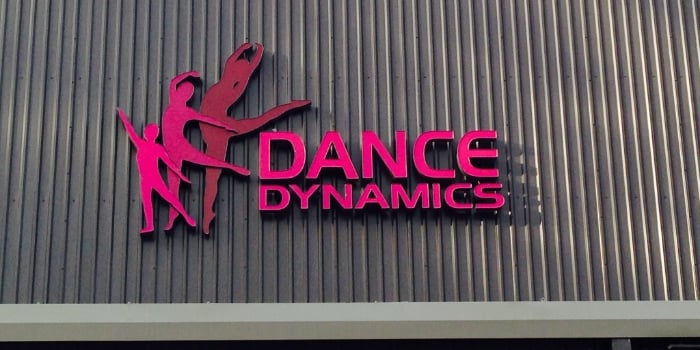 New Dance Studio located in Lafayette, LA, Dance Dynamics the dance studio of Abbie Odom. What a great person to work with too. She was very easy going, had an idea on what she wanted to say and some dancers for her logo but wanted her sign to stand out! Luckily she came across Signdealz. Custom Signage is right up my alley! I really enjoy doing signs that aren't so "cookie cutter" if you will and just plain and simple. I located a fabricator that was great to work with on this job and went above and beyond to help me get this just right! Since we were using pink vinyl for a lot of the faces I knew from past experience with Shear Madness - Lee's Summit that we may have some lighting issues. Shear Madness also had a portion of their sign with pink vinyl on the face. However we ran into a small lighting issue the evening of install when we turned it on it lit red instead of bubble gum pink. Long story short I had to get the pink vinyl custom digitally printed to get the perfect lighting effect. So that is what my fabricator did for Dance Dynamics and all of their vinyl actually. They digitally printed the vinyl, and some of the dancer silohuettes they had to do more than one test print to get the perfect lighting effect.
Now for the custom part of this project. The dancer silohuettes are actually six separate channel lettershapes all at varying depths from 3" to 5". This was to give them a much more wow factor than one single-faced oversized channel letter. Not to mention, much more manageable for install and any future service which is inevitable of any sign.
Another interesting fact is that this sign was installed by Abbie and her dad, which when asked if they could install this at first I was a little hesitant, but yes it is possible as long as you have the proper equipment. There's would require a way to get up and next to a wall that is probably at least 25FT up. Luckily their general contractor was a family friend that had some lift equip that they let them use for the installation. For the wiring, I told Abbie honestly, that is over my head, however all of our signs do come with a wiring diagram and discussing this with my fabricator that my customer wanted to install this themselves he assured me it is actually fairly easy. Which reminds me I did wire ONE sign, actually that Shear Madness - Lee's Summit Channel letter wall sign because I was the smallest one to fit in the less than adeqaute space above the drop ceiling! Quite a learning experience. I was fortunate to have quite a knowledgeable and trusted installer I use for my Kansas City Metro sign jobs though and it wasn't that bad other than just hoping I wouldn't drop 20 feet to the sales floor below.
Do you want something more than just a "cookie cutter" sign?
Conact me to see how we can make your sign really stand out from your surrounding competition!