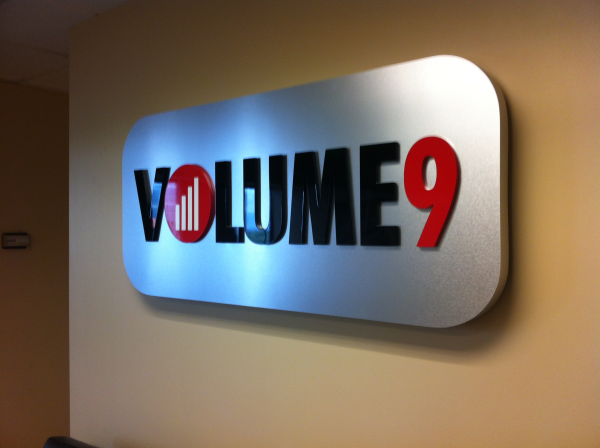 Volume 9, Inc is a local Denver SEO company and currently has over 30 employees dedicated to serving the Internet marketing needs of their clients. Founded in 2006,
Take a look at Our Volume 9 Brushed Aluminum Sign
Volume 9
continues to develop as an Internet marketing firm. We evolve our products and services to deliver results and contribute to the bottom-line success of each of their clients.
You can find Volume 9 on the web at
www.volume9inc.com
or at
1660 S. Albion Street, Suite #800 Denver, CO 80222.
Signdealz Lobby Sign Design
Volume 9 came to Signdealz to develop an interior sign that would impress customers the moment they walked into their office in downtown denver.
Signdealz
developed a simple, yet elegant design for an interior sign that provides both contrast with the existing environment and allows the brand to stand out.
Things to consider when buying your interior lobby sign
Here are some items to consider when making this important purchase:
Logo Type: Do you have a verticle logo or a horizontal logo. Sometimes you need to find adequate wall space to fit the interior lobby sign. Is your sign in front of a counter? Is it behind the counter. Is the wall lenth thin or long? If you are developing and logo brand, make sure you have a logo designed with both options.
Cost: Most good interior signs should cost between $1000 to $3000 dollars. Cost will depend upon your fabrication and material type. Common types are as follows
Flat cut letters
Illuminated Letters
Copper or Brass
Acyrlic or Fabricated Metal
Our sign for Volume 9 was less than $1500 installed. It's a great value for a sign that will last for decades.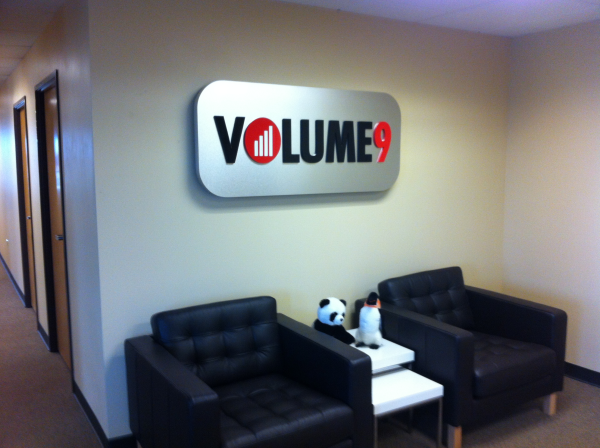 What was the interor lobby sign made of?
Signdealz
can fabricate a sign out of any material immaginable. Volume 9's sign was fabricated out of ACRYLIC LETTERSpainted to match thier specific PMS color. Then we fabricated the aluminum pan out of .080 aluminum to provide strenght, then laminated the pan frame with a brushed aluminum laminate. The small graphic on the Volume 9 sign "O" was done in high performanc vinyl, it was a simple yet elegant touch.
Why Use Signdealz
Signdealz is a network of individual broker/dealers who specialize in architectual, electric, and electronic signage. It's all we do. We source out the best wholesale manufacturers on the planet and deliver amazing signs at the best prices. It doesn't matter if you have one location or 900, we can create a solution that works for your on premise advertising needs. We have numerous options for clients and have a reach across the United States. If you would like us to provide a quote for your next interior sign or interior sign package, please email us with your information.
We can also ship out your sign and have it installed with our network of qualified vendors. Give us a call: