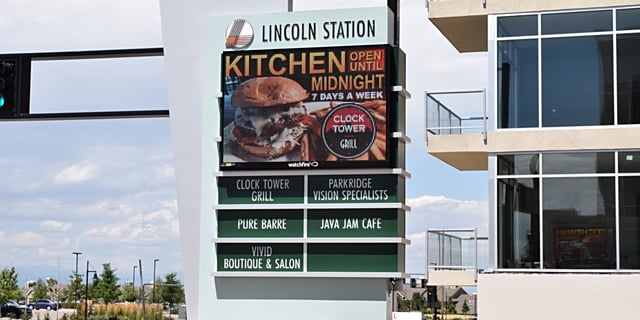 Multi-Tenant LED Signs Create More Opportunity for Tenants
The Situation
Retailers are living in an environment where online sales are stealing away impulse buyers. The local shopping malls have to compete with the likes of Amazon and Walmart with their virtual online marketplaces. Consumers are looking for the easiest way to be able to purchase goods and services, and the local shopping mall is slowling losing it's once dominant position against the smart phone.
The Solution
Lincoln Station is a new mixed use development from Westfield Companies. The develoment consisted of shops and apartments and was looking for a way to promote the business inside the small shopping complex. The design of the mall didn't allow for direct street visiblity, so businesses were struggling to get noticed. Lincoln Station worked with signdealz to integrate a 12MM Watchfire Digital LED Sign into an existing Multi-Tenant monument.
Signdealz recommended a high resolution display in combination with a cellular based communication method that allowed the sign to be programmed from anywhere. Using Watchfire's ignite based software, Westfield Development can manage the sign, program advertising for the tenants, and Signdealz monitors the status of the sign 24 hours a day, ensuring the sign is always working.
Signdealz also worked with the Westfield operations department to develop artwork standards that were delivered to the tenants. These standards made it easy for the operations department to deploy messages to the sign and minimized the amount of time communicating with tenants. Signdealz also offers content management services for message creation and deployment, allowing customers to focus on their core business while Signdealz manages the sign and keeps it working for tenants.
The Results
Tenants inside the Lincoln Station shopping complex now have the ability to promote their goods and services on the sign. This results in increased sales and allows them to focus on their business, rather than having to manage marketing messages on the sign.