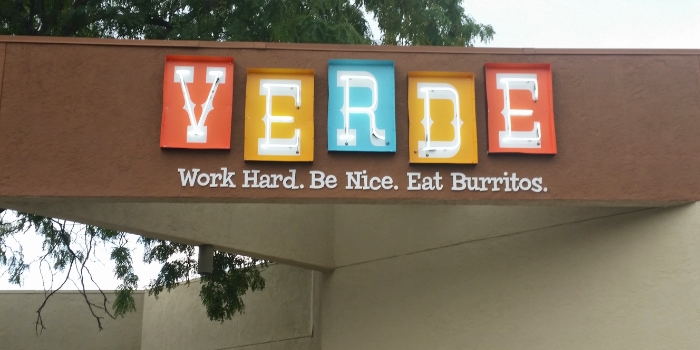 Verde has become well known in the Denver Metro area for their inspired burritos creations. This success inevitably led to Verde opening their first brick and mortar location in Boulder, Colorado. Verde needed a sign that was going to set them apart in a bland and dated shopping center. They turned to the local sign experts of Signdealz.
Exposed Neon Channel Letters
The days of neon are dimming, but there is nothing like a great exposed neon set of channel letters that can create both an artistic look and feel and make a simple sign more visible. Signdealz sign consultants are experts at working with our team of independent designers to come up with an on-premise advertising solution that will get you noticed because we understand that a great sign gets customers in your front door.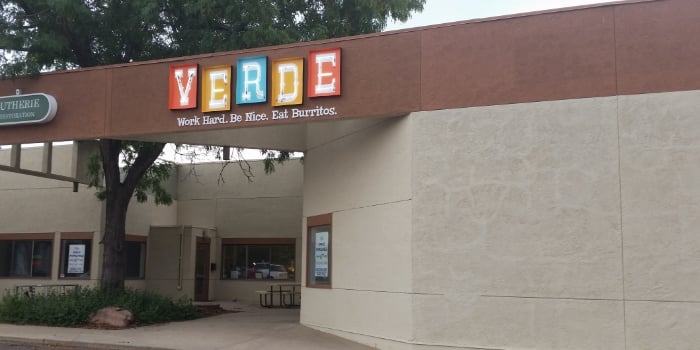 Neon channel letters have a couple of small drawbacks, but we think its simple advantages overcome them. There is the issue of energy management. Neon uses about 75% more electricity than LED, but it's brightness and versatility often make up that shortcoming by driving in revenue. There is also the issue of maintenance, which needs consideration before purchasing. Neon is an exotic animal. Two identical signs created by the same neon bender can differ significantly in their life span. It's just the fact that when you make something by hand, it has some significant variation. I like to think of neon as buying an expensive European car. It's going to go fast, look good, but once it breaks down, you need to be ready for the repair bill. However, you will have more fun than just your everyday Jane domestic car.
There is one more significant added benefit to neon over LEDs. Neon can be seen during the day, meaning that neon is about one of the only sign lighting methods that can compete with sunshine. Thus, if you have a sign in a dimly lit part of your building, or maybe in a shadow-filled area, neon will light up brightly during the day, making the sign more visible.
Conclusion
In conclusion, nothing beats a good neon channel letter sign. The classical look, the brightness, and ROI make it a great sign style that will hopefully never go away!