Whats in a name? For our latest signage creation,
Get Nailed
brings a new humorous twist on getting your nails done. Ming Meyer, owner of Get Nailed wanted her new store to be a different take on your average boring nail salon.
Get Nailed Opens in Parker Colorado
"GET NAILED Beauty Spa, Inc. was established to provide our clientele with an exceptional level of customer care and service by also providing a CLEAN I CHIC I CREATIVE environment while offering the latest in nail trends. "
Signage Challenges
Get Nailed is nestled in the oldest shopping center in Parker Colorado. Their biggest challege was the position of the building as it sits to the road, allowing for only north bound traffic to see their location. Signdealz understands that being seen on a very busy road is critical for the success of any retail business.
Signdealz
worked closely with Ming to maximize the available size of her sign to get the biggest bang for her buck, while not breaking her bank account. Here is how we accomplished it.
Extensive Code Review: We worked with Ming's property manager to make sure the sign met the shopping center criteria. We then evaluated the City of Parker sign code to determine her maximum length and square footage for the sign that was allowed.
Designers: We then sent the design request to one of our network of sign designers and came back with a simple, yet elegant sign design.

Fabrication:

In the case of Get Nailed, we used Direct Sign Wholesale, one of our national fabrication partners, to produce the sign to UL specifications.
Installation: The professional installation was also handled by one of our hundreds of partners from around the country. They did a great job the first time and worked with the electrician to ensure it was connected properly.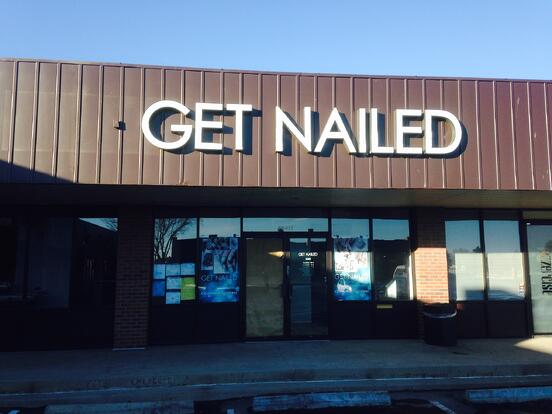 Getting the cost of your sign DOWN
New business owners face an immense amount of challenges just to get their new business off the ground. From municipal, state, and federal regulations that make it more expensive to start your business, to the increases in payroll, and raw goods costs every year.
Signdealz
mission is to offer the highest quality business signs at the LOWEST POSSIBLE COST. We work with our network of quality sign manufactures to find ways to reduce cost and return those savings back to you.