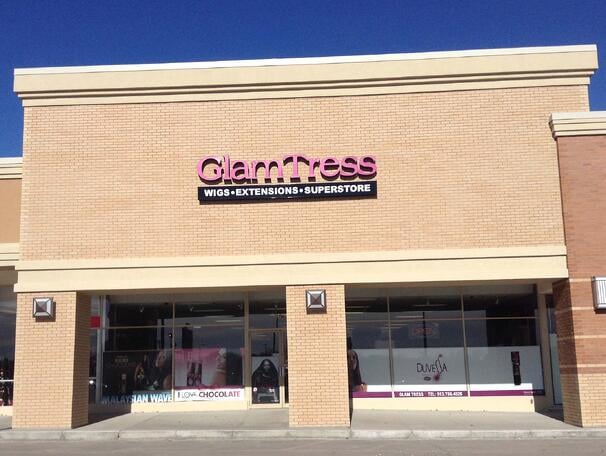 New Sign for GlamTress from Signdealz
Glamtress Beauty is a cosmetics and beauty supply store. They specialize in wigs, hair extensions, and more! The storefront of Glamtress has recently received a facelift from RED Legacy at the Wyandotte Plaza Shopping Center located at 78th St and State Avenue in Kansas City, KS. Construction of the new facade for Glamtress and many other tenants began back in the Spring of 2013 and is still under way. Luckily Glamtress managed to receive a finished facade and brand new LED illuminated wall sign this January!
What are Front Lit Channel Letters?
The GlamTress Sign is a unique LED face lit channel letters with custom painted pink returns for the copy "GlamTress" as well as custom digitally printed pink vinyl faces. These lighted letters are accompanied by a black LED face lit tagline capsule sign.
Front Lit Channel Letters are the number one type of sign sold in the United States. Signdealz sells hundreds of Channel Letters across the country for every type of business. Signdealz offers the most value for the money of any Kansas City sign company.
If you are looking for a new "doo" this is the place to be. Look them up on Google Places and try a new look on for size!