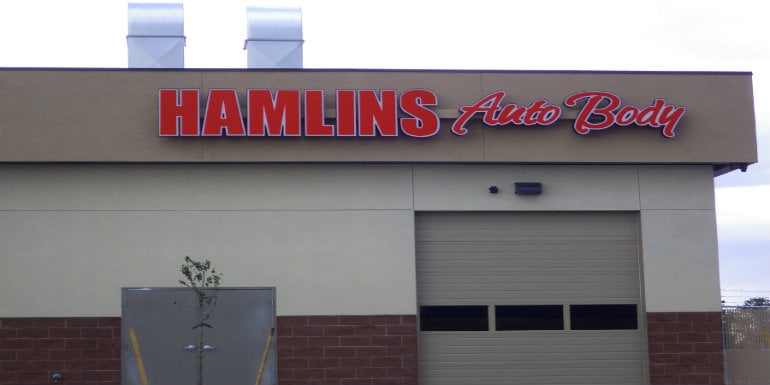 Hamlin's Auto Body, located on Southmoor Drive in Colorado Springs, is a premier provider of auto body services in the local area. The team at Hamlin's is committed to high quality auto body repair and restoration to meet the needs of their clients. They offer a lifetime guarantee on their work and are proud to serve as a direct repair facility for many insurance companies.
Quality Channel Letters from Signdealz for the Autobody Industry
They work on their customer's behalf and often coordinate directly with the insurance company if they find the vehicle to have additional damage. Hamlin's provides a variety of auto body services including BASF paint and paintless dent repair, Prospot welding, frame alignment using the Chief Velocity system, and painting in a Accuraft paint booth.
Channel Letter Signs in Colorado Springs, CO
The channel letter sign in Colorado Springs that we designed, constructed, and installed for Hamlins Auto Body helps them stand out in a crowded field. A channel letter sign is an ideal choice for a business who wants a clean, classic look that aligns with the established branding. The letters are hung individually or connected via a structure such as a raceway or wireway. Each letter contains its own internal illumination and projects the light through the front of the letter. These signs offer complete customization to meet your business' specific needs including size, color, and layout.
Contact us to learn more about designing a new channel letter sign in Colorado Springs. We are proud to serve the Colorado Springs area and are committed to meeting all of our customers' signage needs.