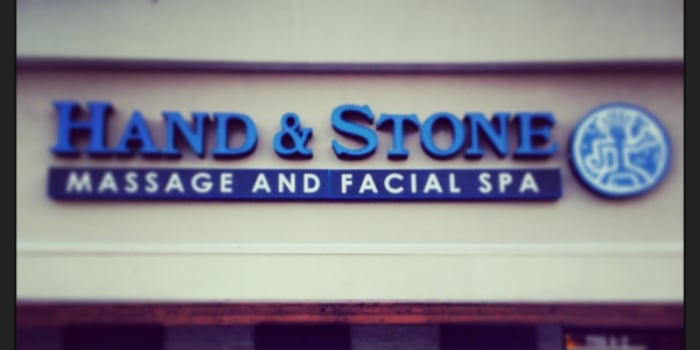 Tucked into a small shopping center on the outskirts of Arvada lies a bastion for those who desire to find thier own form of inner piece. Hand & Stone is becoming one of the most recognizable names in the message and spa industry. Known for their personal service and an emphasis on all forms of massage, from Swedish, deep tissue, to sports massage. Hand & Stone provides clients with a convient location open 7 days a week.
Hand and Stone has locations throught the United States, our customer's location is at 7705 Wadsworth Boulevard, Arvada, CO. You can also find Hand & Stone on the web at
http://www.handandstone.com
. If you a twitter follower you can find them at @handandstone.
Hand & Stone Channel Letter Sign
Hand & Stone's flush mounted channel Letter sign was fabricated by one of our great partners, Direct Sign Wholesale. This sign type is called front lit channel letters and is designed to be a cost effective sign solution for any size business. It's fabricated out of .040 aluminum and 3/16" Acrylic, with a 3M vinyl overlay on the faces. The sign is lit with energy efficient LED's to provide both a brilliant look at night and also save energy vs. it's neon counterpart.
---
Interior Signs - Elegant and Simple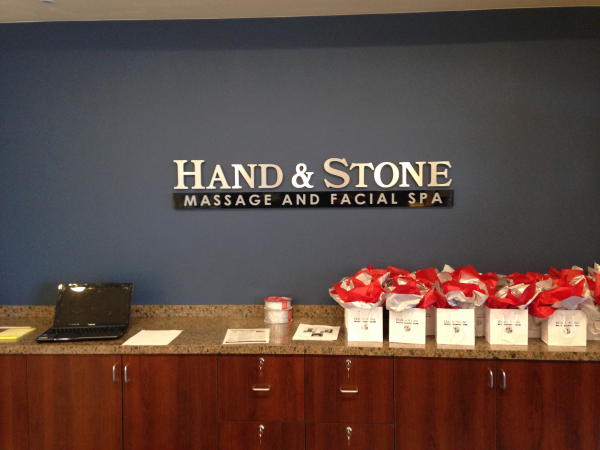 Signdealz also fabricated a simple, yet elegant interior sign. The sign was fabricated out of 1/4" acrylic and laminated with brushed aluminum. Again, this type of design is simple and elegant and doesn't break the bank. You can get a custom interior sign like this installed for less than $900 dollars. If your looking to open your first business or your 100th, Signdealz can help you design, fabricate, and install your next business sign anywhere in the United States.