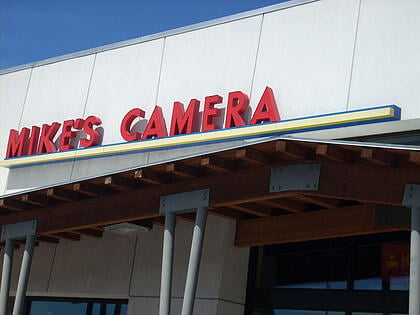 If you're intent on attracting attention to your organization, one of the most effective methods is using outdoor signs for business advertising. Outdoor signs attract customers off the street, indicate where your premises are and show what you do. All-in-all, outdoor signs are cost-effective marketing tools.
What You Communicate With Your Outdoor Sign

The International Sign Association say that outdoor signs should communicate what you are selling or what service you are offering. Their ABCs of signage introduce these concepts:
Attract new customers
Brand the business
Create impulse sales
In enlarging on these topics, the association states that modern populations often relocate to other parts of the country, and, as you lose consumers for this reason, you need to continually rebuild your customer base. Branding is of extreme importance, whether you are an "infrequent needs" or "frequent or impulse needs" business.

Thousands of Out of Home Advertising Operators Can't Be Wrong
Statistics from the Outdoor Advertising Association of America state that expenditure on outdoor advertising in 2011 reached over $6 billion. The more than 2,100 registered out of home advertising operators range from multinational media corporations to small, independent, family owned businesses. Many of these companies network with each other, bringing design, manufacture, installation and maintenance services together for the benefit of their customers.

Outdoor Signs for Business Advertising Make the Public Sit Up and Notice

When compared with other advertising media, it is clear that out of home advertising has a distinct advantage.
Broadcast and cable television reach smaller audiences due to video on demand services. Viewers have become overwhelmed by advertisements and skip rather than watch them.
Radio tends to reach listeners only during peak travel times, and has no visual impact.
Newspapers and magazines have niche markets, and are only relevant for short periods.
The internet offers huge choices, but there is so much available that lower-profile sites are hardly ever visited. In addition, users have security and privacy concerns.
Well designed outdoor signs reach their target markets and stand out to consumers. For example, an outdoor sign that consumers pass every day as they travel to and from work or school will be noticed and remembered.

Out of home media formats are conventionally split into four categories: billboards, street furniture, transit and alternative. The categories are divided into subcategories, and they cover almost any eventuality, mode of travel, event and venue where the public might gather or pass through. Literally, the sky is the limit.
The Green Side of Outdoor Signs
An important concern of businesses considering outdoor signage is that of the environment. It is good to know that this has become a solvable issue with outdoor sign manufacturers.

Each year the industry increases the amount of billboard substrates that it recycles. Substrates are the polyethylene sheets upon which the billboard messages are printed. From the 2009 to 2010 the amount of recyclable substrates nearly quadrupled, from one million pounds to 3.7 million pounds. Made from environmentally friendly materials, the substrates are recycled into plastic parts, flower pots and rock netting.

LED signs have also raised question marks, with all stakeholders wondering what would happen to obsolete or damaged billboards. However, that issue was resolved after a 2011 tornado in St. Louis toppled an enormous digital billboard. Billboard parts were sold to scrap metal recycling depots or reused in new LED billboards; only two percent of components were sent to certified dumping facilities.

Up to now, you may have overlooked the usefulness of outdoor signs for business advertising purposes. If you are serious about growing your business, remember the advantages of this great marketing tool.