Keep Up With The Changes In Consumerism

Operating in physical retail spaces has become more challenging than ever before, evolving with the times is a must for any business especially for advertising. There are the tried & true methods such as newspapers, television, radio and online marketing, but for many business owners, those techniques may no longer be cost effective. Using digital signage to get more customers through your door is certainly worth considering if your business is in a high traffic location.

An outdoor digital display communicates directly with your local population. This style of marketing has quickly become the medium of choice over the past few years; the cost of the technology has decreased and these displays capture attention, helping you increase sales. Studies suggest these signs have a high impact and are cost effective. The vivid colorful displays can be used for any business or organizations such as:
Restaurants
Schools
Churches
Sports Venues
Shopping Centers
Auto Dealerships
Auto-repair shops
Charities
Municipalities
Casinos
General Retail
Entertainment Businesses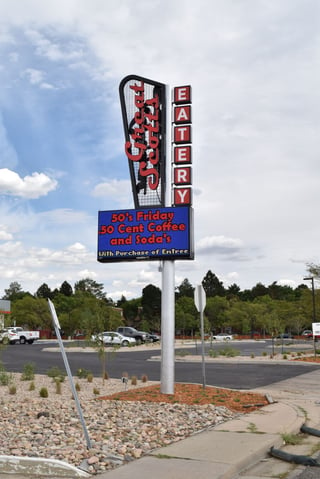 Increasing Your Revenue
The key to any successful business maintaining and increasing sales. Whether your business is within a shopping district or just a stand alone store-front, digital signage is the perfect way to stand out. These outdoor displays use clusters of bright (LED) bulbs that allow for graphics and text to be combined to create compelling content to drive revenue. How do they help increase your bottom line?
Through leasing you can treat your sign as an advertising expense and a long term investment. The one time purchase cost should be understood in relation to a return on your investment. Statistics show there's are increased sales and boosted revenue for businesses that adopt this hardware. Business owners experienced between 15-150% increase in business over an annual year according to a recent study conducted by the Small Business Administration. Realizing the initial cost of the sign should be covered through an increase in revenue of your business is just the beginning in understanding how this tool can provide significant returns on that investment. Some benefits to your business a digital display can bring:
Attracts customers through visual communication
Generates business
Increases local reach and local customer base
Positive promotion and marketing
Enhances conversions
Improves brands and product image
Stand out from your local competitors
Investing in digital signage is key for a business operating in a high traffic location. Compared to other forms of marketing and advertising, visual space along roads is one that is not easily escaped. These high-resolution displays come in many sizes and shapes and can be used as an effective tool for any business or organization. Whether you are located on a busy boulevard or a high pedestrian traffic area, digital signs have been shown to appeal to passers by and will pull in potential customers.
For more information on digital signage get in touch with someone from our team below!
Check out these digital displays at http://www.watchfiresigns.com/led-signs/
Learn more: http://www.signdealz.com/led-signs/industries/