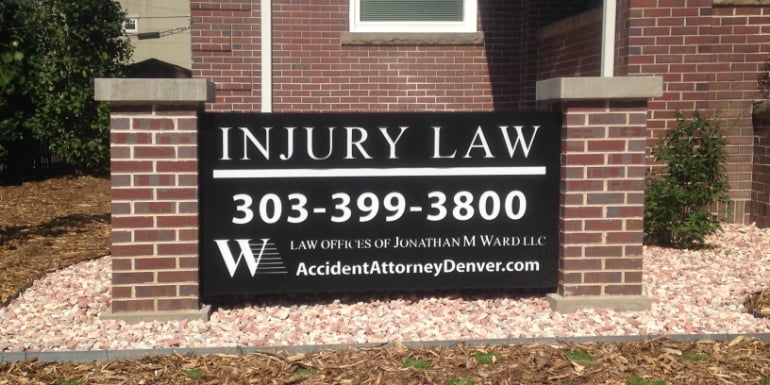 The Law Offices of Jonathan Ward recently worked with our Signdealz professionals to design a custom lighted monument sign for their Denver offices. This law firm specializes in personal injury cases and serves the greater Denver area. Specific areas of practice include auto accidents, slip and fall cases, workers' compensation, and wrongful death. Jonathan Ward and his legal team are trusted, experienced, and available to answer any questions a potential client may have. Their offices at 1825 York Street in northeast Denver.
Their new lighted monument sign in Denver has helped the Law Offices of Jonathan Ward stand out from the crowd. We drew inspiration from the firm's established branding and created a sign that matches the surroundings. The stark contrast of white lettering on black illustrates the professionalism of the firm and makes it stand out to passersby. The emphasis is on "Injury Law" and the firm's phone number to quickly communicate their services and how to contact them, the two most vital pieces of information a potential customer would be seeking. While the instinct when creating a sign is often to emphasize the unique business name, some businesses are better served by highlighting their specialty over their name.
Lighted monument signs provide our customers with a variety of choices, including LED displays, routed elements, halo lighting, bright channel letters, and floodlighting. We can help any customer transform their vision and bring it to life in a custom-designed monument sign.
Contact us at Signdealz if you would like more information about a new lighted monument sign in Denver. We can walk you through the process of designing, constructing, and installing a new bright monument sign.