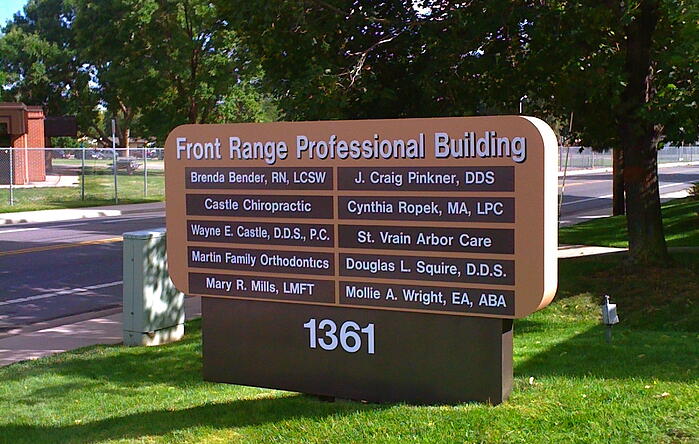 Check out this simple directory sign in Longmont Colorado.
Our directory sign for the Front Range Professional building was an inexpensive sign option that gave the building tenants some much needed publicity. This 1970's ranch style building was tucked away on a remote part of town that made the building difficult to find. How many times have you driven around and couldn't even find the address number of a large building you were looking for? The tenants of this building had dealt with this issue for 40 years, not good!
Simple Solutions to Big Problems Using Dimensional Letters
Often, the first part of making a building easier to find is simply putting the address number large enough to see from the major Right of Way (ROW). A good rule is selecting numbers that are at least 8" to 12" high, and placing them on the highest point possible on the building. Monument style signs are the best way to get that address number out there as close to the street as possible.
Promoting your Tenants using Monument Signs
For a property owner who has a building in a remote part of your town or city, placing a multi tenant monument sign is a cost effective way to help your tenants advertise. When your tenants are financially doing well, they just happen to keep paying their rent. You can get into a small multi tenant monument sign for around $7000 to start. Here is how the prices break down.
Permits: Permits vary by city, but we see $600 is about average
Foundation: A footing will need to be dug out and a pole is usually installed in concrete. Some municipalities require engineered drawings which average out about $500. Adding a brick or stone base can take add costs into the $1000's of dollars.
Sign Cost: A good measure of average cost is about $85 a square foot for the sign itself, simple, and non-illuminated. Once you start adding features like illumination and specialty colors the price will rise quickly.
Installation: Installation for simple monument signs average between $800 to $1200 depending upon the part of the country you are in.
If your looking to purchase a new sign for your business let
Signdealz
develop a customized solution for you. Our knowledgeable sign brokers can walk you through the entire process no matter where you live.