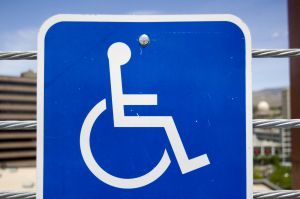 Complying with ADA standards is very important for maintaining trust and respect in your company. When you need to buy signs for your business, make sure to purchase signs that are ADA-compliant. Nearly every sign that would be considered an architectural sign will need to comply to certain ADA Accessibility Guideline standards.
ADA-Compliant Signs for Businesses are a Must
Important Questions About ADA Guidelines
Although some believe signs with Braille are automatically compliant to these standards, Braille is actually just the most obvious visual representation of ADA guidelines. Here are only a few of the many questions the sign buyer needs to consider:
Does your sign have the proper kind of typeface? – All typefaces used on your signs have to be easy to read. Extended or condensed typefaces are never allowed. Certain situations call for different typeface rules and standards. Generally speaking, serif typefaces that are simple and non-decorative are required, but rules vary by circumstance.
Does your sign have non-glare backgrounds and characters? – This is necessary for every ADA sign you use. Any individuals with impaired vision are liable to struggle with flashy glares and reflections. This problem is especially common among the elderly. This makes certain materials unsuitable for signage that complies to ADA standards.
Does your sign have proper contrast? – Any sign that contains visual characters must have a significant contrast of light and dark between the characters and the backgrounds. These backgrounds and characters are allowed to vary in color, but the light/dark contrast is absolutely necessary.
Where is your sign located? – Signs that are meant to identify rooms or areas within a facility must be directly adjacent to the room they identify. This allows any functionally blind people to find these areas as easily as possible. A specific type of Braille known as Contracted Braille must accompany the written text on all of these signs.
Quality Standards for Business Signs
To find signs for your business that follow all the standards of the ADA Accessibility Guidelines, contact Signdealz online or call us at 800-405-0686. Be sure to check out our blog for more tips and information on signs, LED displays, awnings and more.