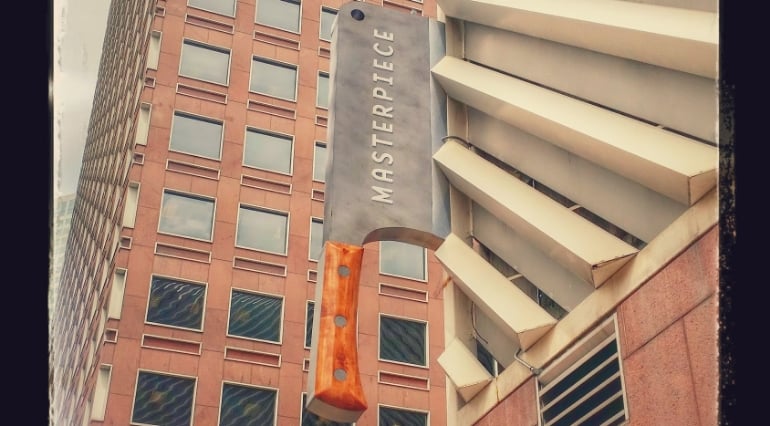 3 Dimensional Projecting Signs in Denver
Masterpiece Deli opened in 2008 as the brain child of Stephen Allee and Chef Justin Brunson. These two had a history of working in Denver's best restaurants. When Masterpiece Deli opened its doors, it elevated the local deli to new heights. The deli's sandwiches are delicious, innovative, and unlike anything you've ever tasted before. We were thrilled when the masterminds behind Masterpiece Deli came to us in need of a new sign. We worked with them to create an iconic blade sign that matches their established branding.
A 3D projecting blade sign is a sign created to look like an object and hangs perpendicular to the business, typically held by metal brackets, and attracts the attention of passers-by. Our signs are customized to meet the client's needs, and the Masterpiece Deli blade sign in Denver reflects the unique qualities of this business. The Masterpiece sign is one of a kind. The meat cleaver stands seven feet high. We created the faces of the blade out of .125 aluminum sheet and used black and gray to make a face appear aged. We then routed the customer's name "MASTERPIECE" out of the aluminum and pushed through 3/4" white acrylic to form the body of the letters. The wooden handle is Douglas Fur, stained and hand-shaped into the large handle you see in the photo.
No two businesses are alike. Therefore no two signs should be alike either. We feel like the masterpiece 3D projecting blade sign achieves this measure.
If you would like to learn more about how blade signs in Denver can help boost your business' presence, the Contact Us at Signdealz today. Our Denver sign company can help you discover how a new sign can help you stand out from the competition.