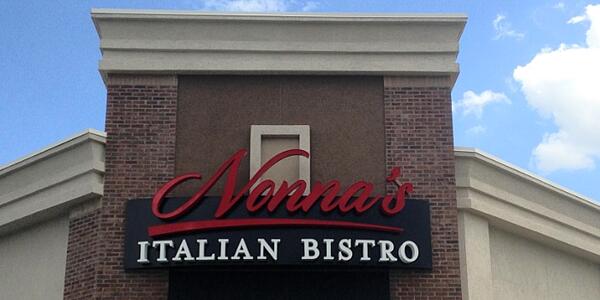 Nonna's Italian Bistro brings it's Chicago style of Italian cooking to Centennial. Nonna's Italian Bistro Market and Deli will not only continue providing authentic Italian cuisine, cooked with all the love that only Nonna can bring to the table, but it will also offer an authentic Italian market and deli.

The Nonna's Sign Project
The Nonna's project consisted of three building signs. Two sets of custom channel letter signs and one routed sign cabinet. The main signs are an elegant script style set of channel letters mounted on a custom arched raceway. This sign creates a sense of dimension, jetting out with both it's letters and it's the main body. Both the "Nonna's" and "Italian Bistro" text extend out from the curved raceway greeting all those who park near the main entrance. The sign creates a sense of style and elegance for the business.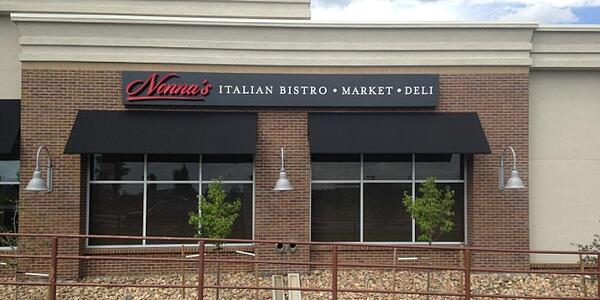 Push Through Graphics Explained
Push through graphics is an essential option for custom fabricators to provide detail when the design elements of a sign may be too small to use channel letters. Push through graphics start with the lettered elements, often fabricated out of acrylic and backed with a white or clear piece of acrylic. The aluminum sign face copy is routed with a CNC router, leaving the letters as holes in the face. The sign copy is pushed through the negative space routed out of the face. Refer to the example provided below. With this technique, a fabricator can place tiny and delicate text on the face and illuminate it. On important note is that all the letter centers will need to be bolted into the acrylic backer. Failure to perform this by the fabricator can cause the letter centers to pop out when there is an extreme heating event causing the acrylic to swell up.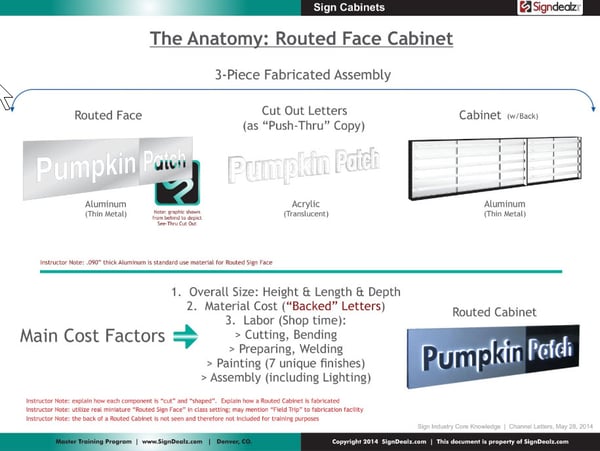 The signs look great and, most importantly, communication out to those potential customers driving by, the different segments of Nonna's Business. Through the intelligent use of great sign design, you can see the other essential parts of the business, the Market, and the Deli.
If you are thinking of starting your own business or improving the company you already have, please give one of giving me a call.