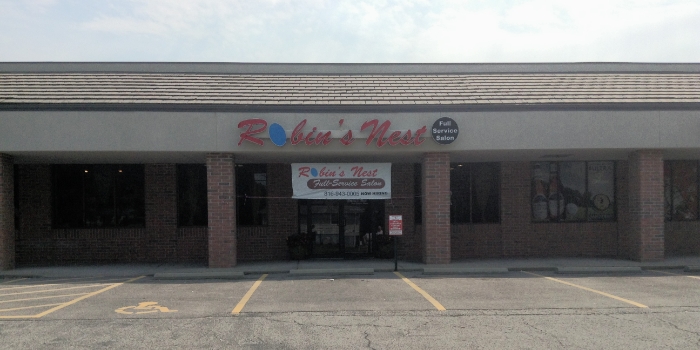 Robin's Nest is a hair Salon located in Kansas City, MO that had relocated from a previous location. They were looking for a new image. The owner Robin Fischer did not have any artwork for her sign when we began the project so I offered to throw some ideas together for design.
Robins Nest Channel Letters
I decided to go with a robin's egg for the "O" in Robin's name to play on the bird and nest play on words. I also originally started with a layout similar to the one pictured in the temporary banner with a rounded brown tagline that read "Full Service Salon". Though this limited the size of the main salon name so we made "Robin's Nest" as large as possible in the sign band and came up with a round tagline area just to the right of the name to help identify what Robin's Nest was.
The Robin's Nest sign is made up of individual channel letters mounted onto a raceway. These raceway style signs are very poplular with landlords as they have fewer attachment points which leave less penetrations upon removal if the tenant ever leaves the shopping center. In my opinion I would always go with remote mount or flush mount channel letters directly to the sign band area whenever you can as they tend to make the shopping center atmoshpere that much more professional in my opinion. When considering a sign you will need to know this information. This information is generally located in the shopping center's sign code which is also many times submitted and verified by the city to apply to the city code allowances. Ask your landlord first if you are unsure. Another general rule of thumb is to see how all the surrounding tenants' signs are attached to their storefronts, this can tell you what type of sign will be allowed.
Would you like more information on Channel Letters and their cost considerations?
Channel Letters and Cost Considerations