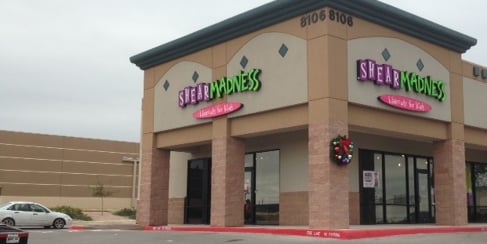 Yes, another Shear Madness Haircuts for Kids location. If you have been following my blogs you will see that this is one of my repeat customers. I work directly with the CEO Janon Otto and her husband Jim Otto (Director of Franchise Development) as they grow this franchise. As you can see this project got completed around the holidays. This particular location was formerly another kids salon franchise. They also have the largest Shear Madness Haircuts for Kids signage yet! Each channel letter is approximately two feet tall and the overall sign is just shy of five feet tall by fifteen feet wide. Everything is bigger in Texas after all, right?
When choosing channel letters, size does matter. Unfortunately many choose to focus only on price. Focusing only on price can greatly affect your budget in more ways than one in my experience. Much of my experience comes from my project management background which included being subcontracted to coordinate installations for other sign company's customers. I have seen customers that clearly focused only the cost of the sign instead of ROI or Return On Investment. With that said Jorge and Elsy (owners of this Shear Madness location) received their two exterior illuminated signs for less than $8,000.00. A sign should be viewed as your best employee. Why is that? Signs are there 365 days even if you are not, they continually identify your brand and your location. Many think of the signs as an after thought and investing poorly into their signage.
Did you Know?
Most businesses receive around half of their local business as the result of signage.
Signs serve as constant advertising and are free once they have been initially purchased.
LED signs have a cost per 1,000 impressions of under $0.15 if placed properly.
Sign lettering comes in multiple styles, such as adhesive vinyl or eye-grabbing neon as well as metal, wood, plastic, and foamcore. This means that signs are some of the most versatile advertising available.
Try this next time you are looking at a sign for your business. Once you receive a quote for your sign take that number and divide it by 12. This will be how much it will cost you every month over one year. However, how long is your lease? How long do you plan to own this sign? Let's use 60 months (5yrs) for the example. For cost let's use $5,000.00 which is what I advise all my customers as a safe budget to anticipate for a single set of channel letters, installation, and permits.
Quoted price: $5000.00 (divide by 60) = $83.33/ mo. Does this sound manageable to you? Do you plan to be in business longer than this? If so you will spend even less per month over the life of the sign. Not to mention, depending on the requirements for your channel letter sign you very well could be well under this proposed "budget". The $5000.00 is a budget which should allow cushion. Remember under promise and over deliver!
Signdealz also offers financing options for those custom signs that may exceed this starting budget amount. The best time to look into financing is during your construction budget building process. Many times you can include your signage into the finance amount you are looking for all construction, furniture, and other start up business expenses. Not to mention There may be some tax advantages when financing business purchases.
Remember, when there's a will there's a way. Let me find that way to get your name out in front of your customers!