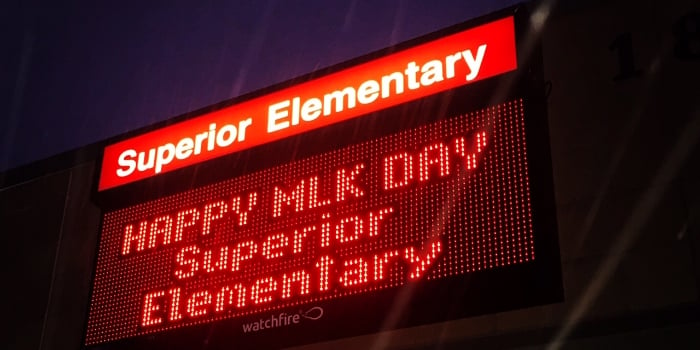 Want to make your local school facilites engineer happy. Get rid of that old readerboard and get a convienent LED Message Center from Signdealz. Signdealz is the leader in affordable LED message centers for schools in Colorado. We exclusively use Watchfire LED Message centers. Why?
Software: Watchfire has the easiest to use control software on the market. It takes 3 steps to get your LED sign to display a message.
Training: With Watchfire you get training for the life of the sign. Don't worry if you have staff turnover because we will be there to help the next person managing your sign. Want your students to manage the sign? Signdealz will peform traning sessions to get your High School students involved in the managemetn of this important communication tool.
Quality: Every component of our signs are manufactured in America. This isn't some cheap product from China, this is American quality! Watchfire stands behind thier LED displays for 5 years and Signdealz follows that up with 2 years of labor.
Connection to the Sign: From Wifi to Cellular Broadband connections, we can deploy your sign nearly anywhere. Whether you have one location or 2000, the Ignite software combined with the Broadband connection service allow you to manage every location with ease.
No more standing up on a ladder in the snow switching out letters on that old reader board. Get your school, church, or business into the future. Connect with your customers like never before. You control your message, you control your advertising, so put yourself in control with a powerful LED sign from Signdealz.