---
Cannon City Church of Christ - A Case Study on LED Sign Cost

Signdealz worked with Preacher Rio Evans in Canon City Colorado to deliver a new beautiful 16MM Watchfire LED sign for their congregation. The Church of Christ in Canon City is setback in scenic area of Colorado, in a small neighborhood where you may possibly miss this small church if you go to fast.
Signdealz was contacted in June of 2015 by a few members of the congregation of the Church of Christ. They were evaluating LED sign providers and came across Signdealz online. Like most buyers of LED Signs, they were looking for information regarding their options, specifically around the cost to purchase and maintain and LED sign for their church.
Total Cost of Ownership
It's important to understand all of the components of cost regarding the purchase of an LED Sign. We find many buyers often focus on the bottom line price of the unit, but this can be a big mistake. Signdealz recommends that buyers focus on the following cost drivers for LED signs.
Price of the Display: All LED Signs are not created equal. Make sure you are comparing apples to apples when looking at the price. The main numbers you want to focus on are the unit's Matrix. The matrix is simply the number of LED's high by the number of LED's wide. It's a universal measurement and is less confusing. Each manufacturer can have different cabinet dimensions and also make their LED modules different sizes, but the matrix will tell you the truth about the display.
Energy Usage: Energy usage can vary wildly from one manufacturer to another. Watchfire builds one of the most energy efficient signs in the industry. Make sure you get a good look at all of the competitors electrical requirements before you buy. In some cases, the difference can result in significant additional cost in running electrical wiring to the sign location. Also, buying an inferior sign can result in hundreds if not thousands of dollars a year in utility costs.
Replacement Parts Past the Warranty Period: Signdealz recommends that you ask your sign dealer how many units they have in the field past the manufacturer warranty period. Ask for references on those units still in the field. Many manufacturers do not stock parts past a five year window, so you might be required to have your parts repaired instead of replaced. Repairing a part can often take months and you're sign could be down the entire time. Watchfire stocks parts on each model for 10 years past the end of life on each model. That will ensure you have parts for years after the purchase of your Color LED Display.
Service Call Cost: Make sure you find a partner that will support the display they sell you. Ask for how many of those displays they have sold and ask for references. You will need to factor in the cost of service calls outside the labor portion of the warranty period. Signdealz offers 3 years of labor coverage for every display and has options for extended labor warranty so you know your going to be covered by an expert.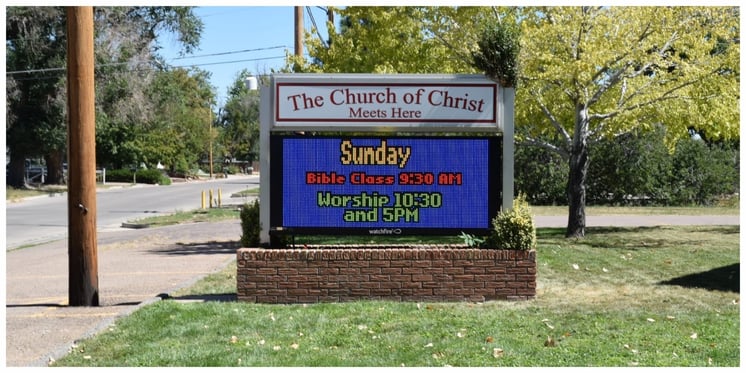 ---

CONCLUSION:
It's not just the bottom line price when your looking at LED displays. Just because a display may be cheaper, the costs of maintenance, labor, and electricity can quickly add up over the years. Focusing on a quality display that will last for 15 to 20 years can save you thousands, and besides, having it work and look great are just as important as price. Watchfire Signs stands behind their product and we stand behind our clients to ensure that they get the highest quality sign at the best price possible.
---