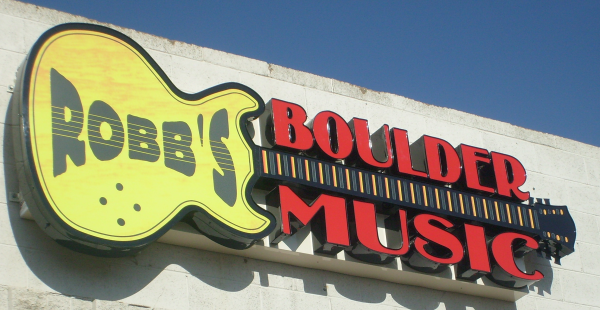 A few years ago Signdealz.com did a project for Robb's Boulder Music on 30th street in Boulder, Colorado. They came to us needing a Monument Sign, and had an idea of what they wanted it to look like: A piece of large flagstone with engraved letters. Unfortunately, what they wanted would have been lost to the eye of a passing customer, and didn't reflect the business in any way. Luckily, the owners had an open mind. We approached them with an epic idea:
Boulder used to have a business with a 'guitar sign' (similar to the iconic Hard Rock Cafe sign), and it was a well-known icon of the local community. After some time, the business closed, and the sign came down. People eventually forgot about it.
This presented Signdealz.com and Robb's Boulder Music with a unique opportunity: We could bring back the guitar sign, and put a little style back into the community! Now if a giant guitar doesn't catch your eye, what will?The project consisted of a large Guitar (custom built) with a routed-acrylic face and digitally printed day/night graphics. Included was a set of custom Channel Letters with red faces, and everything was mounted to a raceway and installed onto the front of the building via a crane. The end result was unique, eye-catching, and highly visible!
Signdealz.com
specializes in custom design, fabrication, and installation of large-scale signage. This includes Electrical Signs,
LED Displays
, Channel Letters,
Monument Signs
, and much more! Choose the experts - choose Signdealz.com! Give us a call today at
303-447-1101