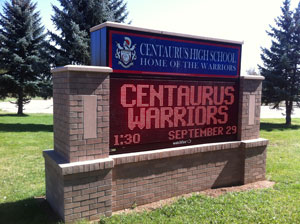 Unlike a business, school signs tend to be generic and somewhat bland. This could be because schools want to provide the information without distracting from the content, or possibly they want to make the words easier to understand for their students just learning to read. Whatever the reason, you and your school do not need to sacrifice the appearance of your indoor or outdoor signs to provide the necessary information. You can post a visually stimulating sign out front of your school to show parents and students your school's spirit and still impart information to make them aware of upcoming events. Once inside, you should keep that impression going with rousing and informative signs.
Dressing Up Your School's Outdoor Signs
While posting a huge neon marque outside your school doors isn't exactly the right look, you don't want a school sign that provides only the bare minimum either. Both of the approaches say the wrong things about any school. There are several types of signs that can better reflect your school spirit and appearance.
The most basic sign provides the school name with the traditional manually added messages at the main entry point. Beside the school name you can add the school mascot and slogan.
For a slightly more modern appearance, you can post an electronic sign with LED messages. This not only saves your staff from having to manually add letters during inclement weather, it means you can provide information much more quickly if the need arises, such as a school cancellation because of snow.
Place stone signs to other entry points, giving the school a bit of elegance. Add a statue of your school mascot for kids to take pictures with for their photo albums.
Channel signs above the school's entrance are a nice way to welcome all students and their parents to the school. These signs light up during the short winter days. Give students and staff a beacon of light to lift their spirits as they enter on those the cold, dark mornings.
Giving The Right Sign Inside
Once you establish the right impression with your school signs outside, you want to live up to the exceptions upon entering the school. And you have even more options inside to consider. You can even switch out the different types of school signs periodically to keep the interior look fresh.
Start by showing off your school's accomplishments with plaques at the entrance. As your school wins awards or receives recognition, you can update the plaques.
Post a directory at the entrance to let visitors know where to go, especially to guide them to the front office. You can get matching signs to post around the school to guide new students, parents, and staff to the different areas of the building.
If you chose to place a stone sign outside, you can keep a consistent look with an engraved stone sign with the schools name and motto.
For special events, like Open House, Homecoming, or academic tournaments, there are a number of banners that can say what you want to welcome families and the competition. You can also have flags added around the school during football season. These are also handy because they can be reused every year to help pump your students up for their team.
These choices can be made easier by using a sign company and asking for a free consultation on the best approach for your school and within your budget. At SignDealz, we can make those decisions easier and prove you the right signage for the right price.