The Appropriate Business Sign for Every Location – The Blade Sign - AKA Projecting Sign
We are all taught in grade school of the Golden Rule, to respect others, to be mindful of what our impact may or may not have on other people. This is important in life, but it's absolutely critical in business. I like to offer the Platinum Rule, treat others as they wish to be treated, not as you would treat yourself. You might just be a jerk.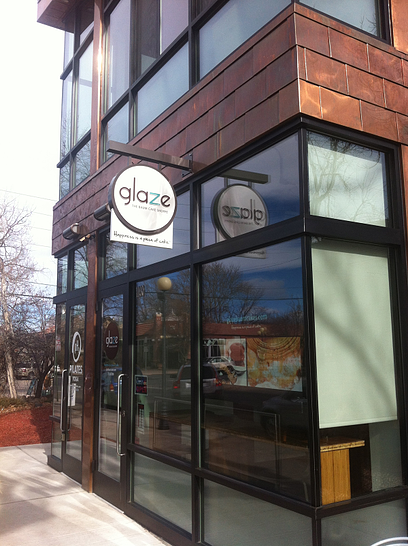 Why is this relevant? Well, when it came to developing an appropriate sign for Glaze Cake Shoppe we had some issues. Our client is in the middle of a fast growing residential neighborhood, and any overpowering aspects of a lighted sign might just piss of the neighbors. When you're a neighborhood cake shop, you want all of those neighbors coming by to purchase some cake. If you don't respect their influence, that could mean disaster.
Signdealz, understanding the gravity of the situation, we worked with our Architect from Studio Lemonade, Grady Huff, who provided a unique and clever design that both flowed with the design of copper shelled building. The elements that provided the light, the text, were so minimal as to keep the glare down from the very close neighbors.
Light Sensitive Issues –
For business owners who are inside a residential or mixed use neighborhood we have a few tips that will keep you out of the dog house for sure.
Make sure your timer is properly set. Don't keep that sign on past your hours of operation.
Ensure the sign is not too bright. Just because you can have the brightest sign known to man, doesn't mean you should. You can insert a rheostat that will enable you to regulate the brightness of your sign for both neon and for LED's.
It doesn't hurt to ask your neighbors if the sign is causing problems. Being a good steward to your neighbors will always garner more business in return and increase your standing in the area you service.
Blade Signs Can Be the Best Option
For those of you who are on the fence about what is the best kind of sign for your business, remember one thing. Blade signs are often smaller and should be placed in an area where passing pedestrians and motorists can get the best vantage point. For businesses in pedestrian malls, blade signs can often outperform the larger wall sign counterparts. There are also some very unique elements to blade signs that cannot be duplicated by any other sign type. Signdealz brokers can help you choose the right projecting or blade sign for your specific purpose and need.
All Is Well That Ends Well
For Glaze, our plan worked flawlessly. She received a sign that looks great, illuminates her brand, and wont turn out the neighbors with pitch forks against her. However, I didn't think Heather Alcott has much to worry about. They produce some of the most amazing cakes I have ever had.