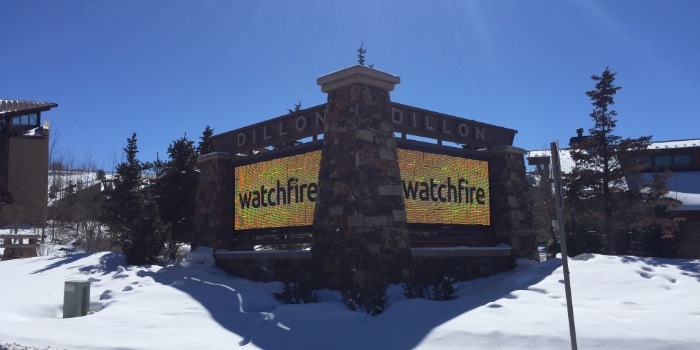 Everyone who ski's in Colorado fears the traffic in front of the mighty Eisenhower tunnel. Hours sitting and waiting for ski traffic to slowly move down the mountain towards Denver. If you could only be sitting in a restaurant, watching the big game, instead of sitting in your car. If you only knew there was a tunnel closure! Well, now you will with the Dillion's new LED Sign.
10MM's of LED Sign Glory
Signdealz worked closely with Town of Dillon officials to get this new 10MM state of the art Watchfire LED display up and running in Dillon Colorado. Through the process we faced numerous challenges getting the sign approved. The sign will function as a communication device to the community, publishing messages regarding social and civic events, tunnel and highway closures, and emergency messages. It replaces an approximately 25 year old manual reader board.

Watchfire Vs. Competitors - The Choice
The Town of Dillon had many choices when it came to LED displays. The city made their choice based on numerous factors.
Customer Service: Signdealz offers the best customer support possible. We provide complimentary classroom based training, combined with Watchfire's training for life along with the display. We also manage all of the technolgoy issues regarding your new sign and integrating it into your computer network
Reliability: Signdealz has sold numerous Watchfire LED signs and Watchfire has deployed over 50,000 LED signs across the country and around the world. Every single LED sign Signdealz has sold is still operational even after nearly a decade of service.
Support: It is critical that customers get the support they need on such a powerful platform as an LED sign. Watchfire provides the best technical and training support in the industry.
Software: You wouldn't think that software would be a deciding factor, but it's the most intimate connection with your sign. If it's not easy to use, you won't want to use your sign. The ignite software from Watchfire is very easy to use and extremely intuitive.
If your in the market for an LED sign make sure you give us a call. Signdealz will help guide you through the complex process of determining what is the right digital advertising solution for your business or organization. We can provide detailed traffic analysis, combined with a data driven approach to determining your signs Return on Investment (ROI).