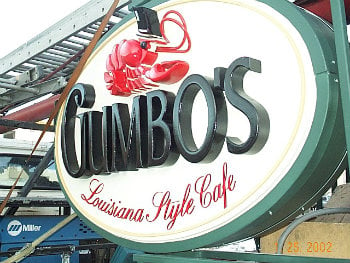 Your business's signage is the first visual representation of your service or products that customsers will see. Different color combinations represent different moods and feelings and can truly have deep psychological impact on people that view them, so choosing the right color combination before buying your first sign is very important.
Research Shows Color Matters
Every year, big money goes into researching the psychological influence of different colors. Big-name corporations are constantly spending serious cash to find the best color combination for suiting their business' products or services. These powerful companies use modern color research to find the right colors that induce the desired thoughts and feelings from their customers. McDonald's bright yellow and deep red color scheme exudes happiness and warmth while psychologically inducing hunger. Starbucks utilizes the color green to make their drinks and other products seem healthier and more nature-friendly, or more "green".
To make the most of your business signage, you can use similar techniques as these highly profitable companies when buying your first sign. Consider what kind of psychological impact you will have with each color, and find an appropriate color combination for your business. Are you trying to grab their attention, appeal to their senses or invoke a certain positive feeling? Remember that warm colors like red, yellow and orange are known as "high-arousal" colors, as opposed to tones with lower arousal like green, blue and violet. While you can take that as a solid starting point, different shades of those colors can create all different kinds of psychological reactions.
Although these reactions are important to consider, they aren't the only factors to keep in mind when choosing your signage. Contrasting colors will determine how much impact your signs have, and a certain amount of contrast is actually necessary for making sure your signs are ADA Compliant. Always be sure to make a clear message with your sign – don't let any large, loud graphics or intense background colors cloud its meaning.
We Can Design a Custom Color Commercial Sign for You
Visit our blog for more tips and info on signage of all kinds, or contact Signdealz online to get in touch with a business signage expert.