Independent Motors opened it's doors in 1983, primarily serving Nissan Motors automobiles. With a desire to focus more on customer service than was being done by other Auto Repairshops at the time, Bill Bender created an icon in the Boulder Community. Independent motors moved in August of 2013 to their new location at 5440 Arapahoe Ave.
Independent Motors New Watchfire LED Sign
The new facility is a testimate to Bill's dedication to customer service and quality automotive repair. With over 8 vehicle lifts and a spacious new state of the art repair facility, Bill Bender and Independent motors works on all makes and models of vehicles. You can find Independent Motors on the web at http://www.independentmotors.com.
Signdealz Digital Pylon Sign
Signdealz worked with Bill Bender of Independent Motors to develop the largest and highest Digital Pylon sign in Boulder Colorado. The sign is 25' High above grade and has approximate face dimensions of 7'H X 9'3L, or 65 Square Feet of sign face. It's a really impressive sign and was no easy feat to get through permitting. It's the largest sign of it's kind in Boulder, and the largest sign built in Boulder in decades. Our initial submittal to the City of Boulder permit office had over 12 reasons for denial.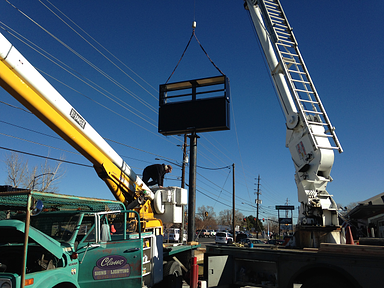 Signdealz worked for over 2 months with both the City of Boulder and with Bill Bender at Independent motors to get the sign through the permitting process. This included a detailed site survey, two sets of engineering, and multiple design revisions to get the sign approved.
We worked with one of our premier installation partners, Classic Signs, who did a wonderfull job installing the sign.
The Digital Sign from Watchfire Signs
Watchfire Signs is the only vendor we have approved to provide LED digital signage technology through our partner network. Why? Because Watchfire produces the most technologically advanced products on the market and backs that technology with a 5 year parts warranty. When you purchase a Watchfire LED Display your purchasing the best display on the market.
Independent Motors Digital Sign is a Watchfire XVS 19mm Full Color LED Display. The sign is capable of an amazing 1.15 quintillion colors. Below are a list of some of the industry leading characteristics of the Watchfire XVS Display.
Fully encapsulated modules provide high durability and weather resistance. Watchfire fully encapsulates every LED module in a bed of silicone gel for superior weather resistance
Through-hole LED construction is proven to maximize image clarity and lengthen LED life.

Excellent resolution makes 19mm flexible enough to
accommodate any level of viewing, near or far, and any
type of traffic.
If your business is considering a Watchfire LED display, please condiser Signdealz. We service and sell Watchfire Signs nationwide.