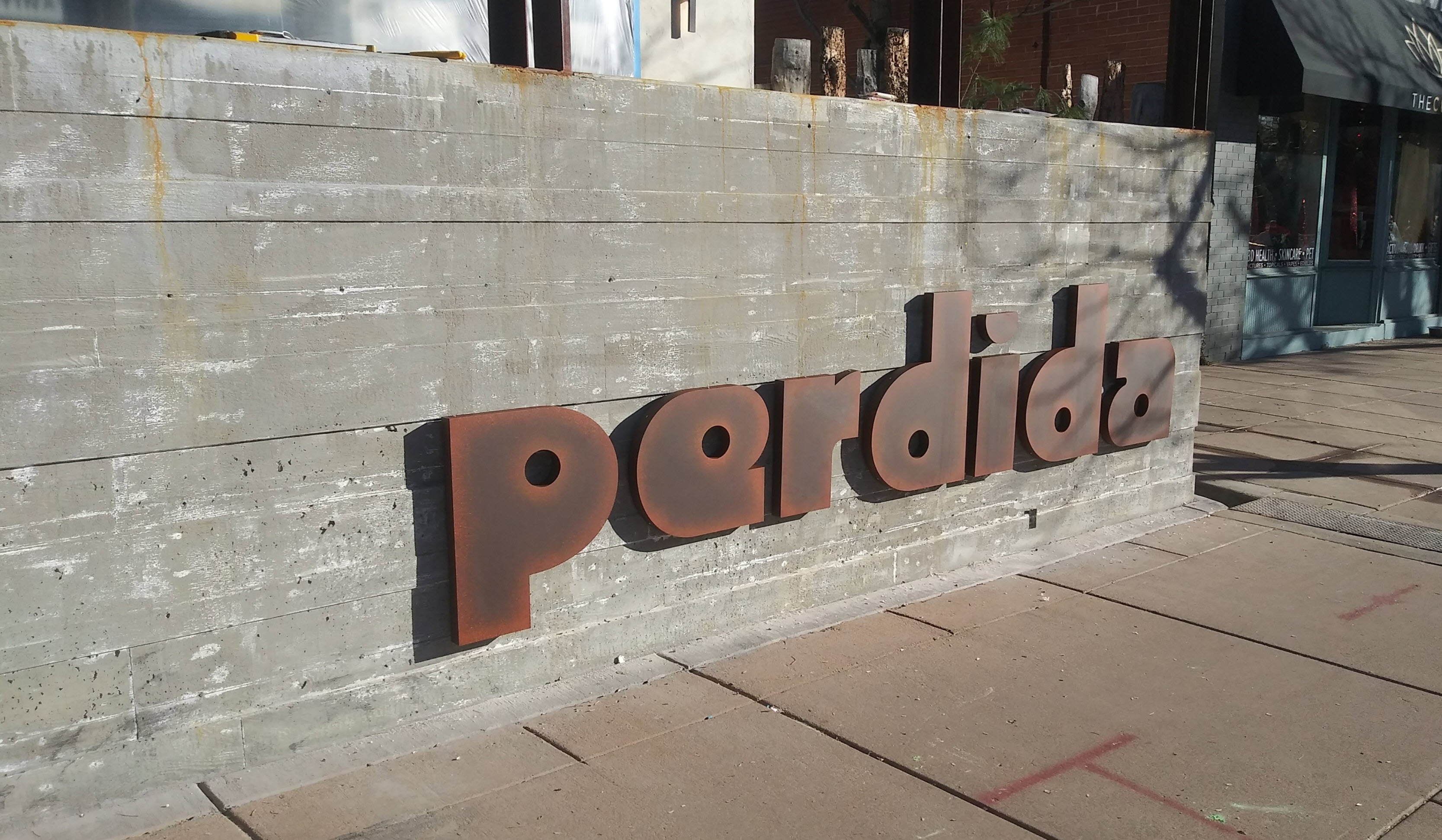 You're a new business, or maybe you have an established business and although you're doing okay, you want to better highlight your location and draw-in more local traffic. But where do you even start?
Which business sign will work best for my business?
If you are wondering what type of sign you should purchase for your business, you might start by looking at your neighbor's signs. You might also consider looking at your competitor's signs. You might find yourself asking:
Do certain types of businesses usually stick with a certain type of sign?
Why would a business owner opt for something like exposed neon over channel letters?
Do some sign types have more benefit in certain locations over others?
There are a few factors at play when it comes to considering what type of signage to purchase for your business. Factors such as:
Whether your location is standalone or part of a multi-tenant shopping area
Whether you have a landlord or some kind of governing body that sets rules for signage where your business is location
The amount of space there is available to your business to use for signage.
What messaging are you trying to convey through your signage?
A lot of these come down to your local sign code, which is something we at Signdealz have a lot of experience in; some also come down to your business' branding and advertising needs. We know quite a bit about that too.
Signage Limitations are based on sign code
Ultimately, your sign choices will likely be limited by your landlord or municipality.
Whether you are on city or unincorporated county land, there will almost certainly be sign ordinances that govern what is allowed in regards to sign type, overall square footage, height and illumination.
Typically, in a multi-tenant facility there will be a landlord sign criteria. That criteria will often limit sign types, illumination methods and sometimes the hours of the day the sign is allowed to illuminate. When internally-illuminated individual letters are the choice, landlords sometimes require raceways.
Side note: A raceway is a mounting structure that encloses both the signage components and electrical components (like the wiring). See the image below for an example.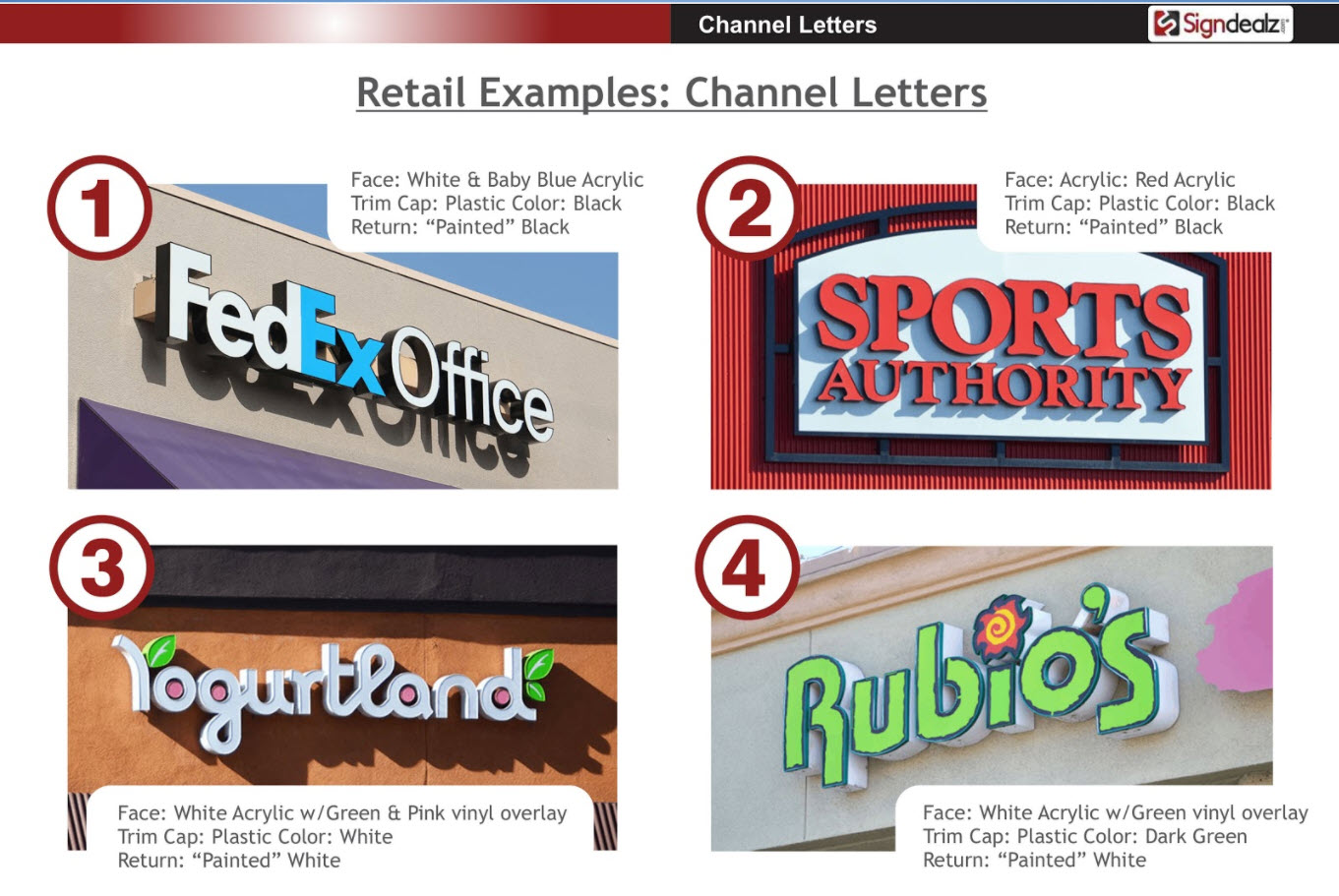 If your business is located independent of other tenants, you will usually be allowed both building-mounted as well as ground-based signage.
Building-mounted signs are often sign cabinets or individual letters like channel letter signs. Channel letters can be non-illuminated or internally illuminated. Non-illuminated signs can also be illuminated with a remote lighting source.
Ground Based Signs - Monuments and Pylon Signs
Ground based signs can be closer to the ground (known as monument signs) or on taller supports (known as pylons). Depending on sight restrictions, such as trees, taller signs don't necessarily provide better visibility. Walk and drive by and around your business and think from a potential customer or passerby's perspective. Where would your new signage be easiest to see?
If your business is on a street front that is separated from the public right of way by only a sidewalk, a street facing sign is the logical choice. However, sometimes a blade or flag sign (mounted perpendicular to a store front) can be seen more easily by pedestrian traffic.
Similarly, for a strip mall or street front that has an architectural canopy or awnings, a hanging sign may be advantageous in capturing the attention of pedestrians. These types of signs can be designed in creative ways to draw attention, such as eye-catching materials, colors or graphics. Depending on sign code or landlord restrictions other sculptural elements can be added to a suspended sign, such as a three dimensional shoe or coffee cup.
Another consideration when deciding on what sign type best fits your needs, is the need to stand out in the area. If that is the case, you might consider exposed neon, brighter colors, decorative accents or even a digital display. Sign codes may steer or limit your choices in order to keep a neighborhood uniform, but there are ways to differentiate yourself from the herd.
Secondary to identification, you may have a need for directional or regulatory signage as well. These may include directories for multi-tenant developments, directional signs for vehicular or pedestrian traffic, regulatory signs such as stop, one-way or parking signs. These signs are usually not controlled by a government entity, but if you have a landlord or property manager, they may have guidelines.
A Quick Review
There are a variety of sign types to choose from:
Monument
Pylon
Blade
Channel Letter
Illuminated (Neon or LED)
But determining which works best for your business depends on the limitations within your local sign code or your property management's criteria as well as the practicality of the location of your future signage.