Why LED Lighting and Why Now?
More and more people, both at home and at work, are installing LED lighting. With the push toward green energy systems, the use of LED lighting is climbing upward. More research and greater production is continuing to drive the price down for LEDs.
The energy efficiency of this type of lighting is great and it is also nontoxic. Users save hundreds of dollars in electricity bills by using LED bulbs. These are long-life bulbs that do not contain mercury that is present in fluorescent bulbs. Many LED lights are small, so an LED bulb often is made up of multiple LEDs that are put together and focused in different directions. These can be put together for white-light bulbs that operate at low and high wattages. There is a system to mark the lumen (light) output so that it is easy to compare the light from an LED bulb with other types of light bulbs. LED lights can degrade and lose their lighting capability if they operate at a too-high heat level, so heat sinks and heat fins are an important component of LED design. LED fixtures need to have extra heat sinks if they operate in a high temperature environment.
The source of light in an LED lighting system is a semiconductor. LEDs (light emitting diode) systems were first developed in the 1960s for indicator lights for devices, typically for electronics such as televisions and stereo equipment. More recent LEDs can be constructed to project light at different wavelengths and colors all over the spectrum, including white light. This is far different than the usual small red LED lights that many people are familiar with. A home or commercial establishment can lower its energy consumption use for lighting by 85% by switching to LED lighting from incandescent lighting. This switch is key for a building to be certified as a green building and to lower its overall energy consumption. Each LED light bulb can vary from the usual 25W to 100W bulbs used for home and retail lighting, to the small LED spotlights used to highlight retail products. For commercial and home users, find out if you qualify for local rebate programs for refitting your incandescent bulbs with LED bulbs. This can make it much easier to afford the initial capital expense of switching to LEDs.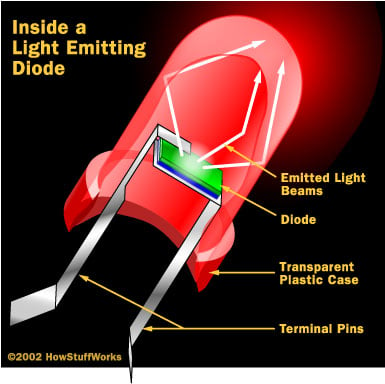 LED lighting has several advantages over the fluorescent bulbs that are on the market as environmentally friendly, green lighting alternatives. LED lighting turns on instantly, does not break easily, does not lose usage life by being turned on and off frequently, and does not contain the toxic chemical mercury that is present in fluorescent bulbs. In fact, LEDs are the only form of lighting that is not fragile, which opens up new possibilities in the construction of lighting fixtures.
LED lighting has other advantages. The LED bulb can last up to 25,000 to 35,000, which is 25-35 times longer than incandescent bulbs. This justifies the initial large capital expense in switching to LEDs. Also LED bulbs are not easy to break, unlike fragile incandescent and fluorescent bulbs, avoiding the usual mess of shattered glass and parts all over the floor. In fact, over a ten-year period it can be shown that bulb costs for LED lighting is about the same at this time with incandescent bulb costs if replacement bulbs are factored in. With lower energy costs, there are large savings in overall costs.
Signdealz has been installing LED lighting systems since their inception in the early 2000's. We can help you determine the financial benefits of moving to LED's vs. traditional bulbs.