LED Displays are taking over the market-place. Having an LED Display gives you the edge in visability, customer influence, and customization. Smart business owners are starting to realize this. The future of outdoor advertising is here, and it's LED Displays. But what about indoors?
Indoor LED Messge Boards - A Superior Product
Consider this: In a typical building, signage is usually composed of Posters, Window Vinyl, plaques, and Message Boards. Imagine how a LED Message Board would stand out! Bright, vibrant LEDs, displaying your message, real time.
LED Message Boards can be changed at any time, from the comfort of a terminal. Business owners often sacrifice changing a sign's message because of the cost involved. With LED Message Boards, your message can evolve with your business, because you're in charge of the content.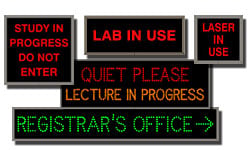 It's important to remember that all LED Message Boards are not created equal. A "bargain" LED Message Board may have an attractive price-tag, but chances are, it will fail before you know it. Signdealz.com deals with quality manufacturers that produce superior products, and we'll work to get you the best deal possible. That's what Signdealz does... Great products at a great price! Click on the button below to contact us and get a quote on your LED Message Board today!