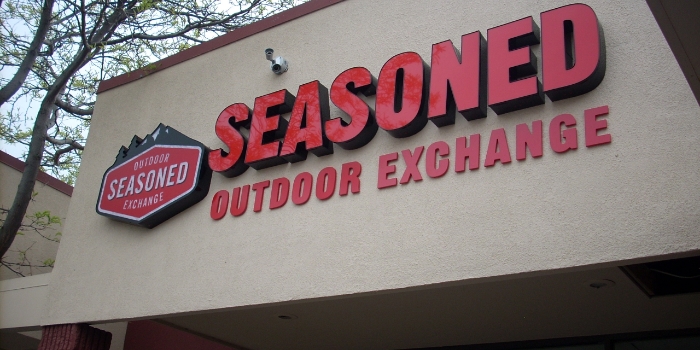 Seasoned Outdoor Exchange is opening in beautiful Boulder, Colorado! Seasoned Outdoor Exchange sells new and consigned outdoor gear, ranging from backpacks and clothing to skis and kayaks. With their grand opening right around the corner, the racks were going up and the gear was moving in. It was time for a sign! Seasoned Outdoor contacted Signdealz.com looking for something that would catch attention, while still conveying their professional image. We set them up with a LED-Illuminated Channel Letter package that did just that!
Signdealz.com Spotlight: Seasoned Outdoor Exchange
You can find Seasoned Outdoor Exchange on facebook. Just click our link. You can also find them at 2067 30th St. Boulder CO. 80301
The sign consisted of a large set of LED-illuminated Channel Letters(which included a logo box), and a set of Routed Acrylic Letters mounted underneath. The entire package was flush-mounted to the surface of the building via pins, and wired up behind the wall. The end result was phenomenal! The owner of Seasoned Outdoor Exchange, Michelle Steiner, was clearly pleased.
"The sign looks just like the design proof"!

Michelle Steiner - Owner
Signdealz.com began in Boulder, Colorado. We've been doing business with local business owners for decades! Why do Boulder business owners come to Signdealz.com? Maybe it's our reputation for quality and great customer service. Perhaps it's because our quotes are so much lower than our competitors'. All of the above? With Signdealz.com, you're getting great deals on great signs, every time!