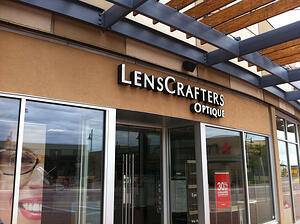 Choosing the right sign for your small business is imperative if you want to attract new customers. Creating custom signs for your business can brand or imprint your company in the minds of those who frequent the area. The New York State Small Business Development Center states, "Signage is much more than a structure marking the location of a business. It's a complex, interactive medium of communication."
In order to create the right sign for your business, you will have to figure out a few things. You will want your sign to stand out and be as unique as possible. It must attract people's attention and at the same time, be memorable enough to make a lasting impression. An effective sign also draws people in and encourages impulse buying. With that being said, consider the following points when creating custom signs for your business.
Customizing Your Sign
Capitalize on your logo. If you have designed a unique logo that is sure to catch the eye of passers by, create your sign using its shape and color scheme. A good example of a logo that needs no explanation is the Nike sign. The swoosh symbol has becomes so popular, the word Nike does not even have to be near it for it to be recognized.
Make sure the sign you create compliments your business store front and exterior. If the building has a retro look to it, choose a sign that accentuates that architectural style. Every building has a personality. The sign you design to showcase your business should also bring out the beauty of the building as well.
Bright colors are attention-getters. Nothing screams buy me more than a brightly colored sign that adds light to dreary day, The sign doesn't have to be gaudy to attract attention, but the right amount of color will not only catch a customer's eye, but draw them to the business.
Shape it up. Signs don't have to be square. The shape of your logo or a product you specialize in can make your sign stand out against other signs in your area. Be creative when designing custom signs for your business. (custom signs for business) Showcase the things that makes your business special.
Placement of Your Sign
Your sign was meant to be seen. Place it where it can be viewed from as many directions as possible. A sign attached to the store front of a business can only be viewed by people who are walking up to its front. Instead of placing it flat against the store front, hang it so it reaches out and away from the business. By placing it perpendicular to the front of the store, people who are driving or waling by will be able to see it at a distance giving them time to look at it and, hopefully, decide to stop in.
Don't stop with one large sign. In addition to the large sign that can be seen from a distance, have one or two smaller ones made to place above doors or on the windows, If a customer drives by and sees the large sign, viewing a smaller image of the sign will be a reminder for them to consider stopping.
Creating custom signs for your business will increase traffic and boost sales. The right sign put in the right place can improve your profitability several times over and more than compensate you for your initial investment in the signage.
Contact Signdealzfor more information or to request a quote 800-405-0686.